From the Open-Publishing Calendar
From the Open-Publishing Newswire
Indybay Feature
Peripheral Canal: Panama Canal North?
The peripheral canal proposed by Governor Arnold Schwarzenegger and corporate agribusiness will appoximate the size of the Panama Canal, according to Assemblymember Joan Buchanan (D-Alamo).
Photo of Panama Canal from
http://www.gijontour.com/
2009/04/panama-canal.html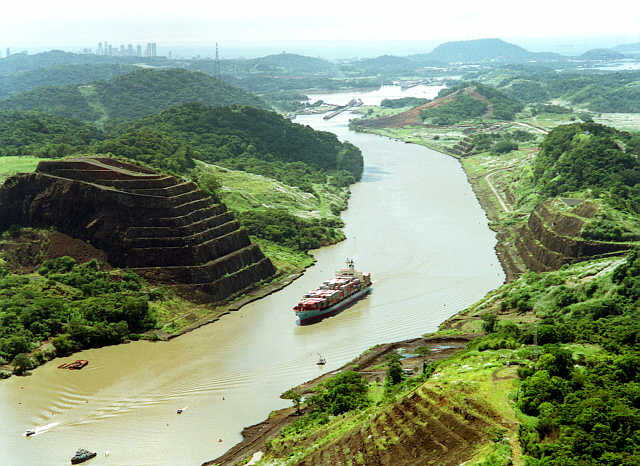 Peripheral Canal: Panama Canal North?
Proposed government boondoggle would be 500 to 700 feet wide, with 1,300 foot right-of-way
by Dan Bacher
Governor Arnold Schwarzenegger, Senator Dianne Feinstein, corporate agribusiness and other supporters of the peripheral canal around the Sacramento-San Joaquin River Delta have carefully avoided discussing what an actual canal would look like, as well as its enormous environmental impacts and budget-busting cost to the taxpayers.
However, in the size and scope of the project, it would be very similar to the Panama Canal, according to recent comments by Assemblywoman Joan Buchanan on the floor on the floor when she and other legislators were asked to vote on a bill to fund a committee to develop a plan to implement the Delta Vision recommendations.
The recommendations call for a "conveyance" that will transport 15,000 cubic feet of water per second (cfs) from the Sacramento River around the Delta, according to Buchanan. This is smaller than the proposed 1982 peripheral canal that was intended to transport 22,000 cfs.
During drought years, the Sacramento River does not have 15,000 cfs. flow for over half the year. In 2007, the flow exceeded 15,000 cfs. in three months with the highest month at 22,500 cfs.
"Based on an engineering report completed in 2006, a conveyance to transport 15,000 cfs. would be between 500 and 700 feet wide requiring a 1300 foot right-of-way," said Buchanan. "That's the width of a 100 lane freeway! The length of the conveyance would be 48 miles. By comparison the Panama Canal is between 500 and 1000 feet wide and is 50 miles long."
"I'm not going to vote for a plan that builds a Panama Canal down the middle of the 15th Assembly District!" concluded Buchanan.
The Governor's Delta Vision Task Force and Bay Delta Conservation Plan both recommend the construction of a "peripheral canal" and more reservoirs designed to export more water from senior water rights holders in the Delta and Sacramento Valley to junior water rights holders that irrigate drainage-impaired, selenium-filled land on the west side of the San Joaquin Valley. Although the Delta Vision Task Force's report recommended that less water be exported out of the Delta to help the estuary's collapsing ecosystem, canal opponents note that the construction of a canal with increased water export capacity would inevitably be used to export more water out of the system.
I have repeatedly asked canal advocates to give me one example, in U.S. or world history, where the construction of a big diversion canal has resulted in less water being taken out of a river system. I have also asked them to give me one example, in U.S. or world history, where the construction of a big diversion canal has resulted in a restored or improved ecosystem. None of the canal backers have been able to answer either one of these two questions.
The push to build a peripheral canal occurs as Central Valley and Delta fish populations are in their greatest-ever crisis. Sacramento River Chinook salmon, Delta smelt, longfin smelt, green sturgeon and other fish populations have declined to record low population levels in recent years, due to increased water exports and declining water quality. A broad coalition of Delta family farmers, recreational anglers, commercial fishermen, grassroots environmentalists and California Indian Tribes are opposing the peripheral canal because it is expected to push imperiled fish species over the abyss of extinction.
Schwarzenegger has cynically tried to link a deal to remove four aging dams on the Klamath River, owned by Warren Buffett's Berkshire Hathaway Corporation, to a water bond including a peripheral canal and more dams. However, the Klamath Riverkeeper and other Klamath Basin stakeholders oppose tying the dam removal project to the construction of new dams in the Central Valley and a peripheral canal as a proposed general obligation water bond would do.
"California must support Klamath dam removal on its own merits," said Georgiana Myers, Klamath Riverkeeper Community Organizer and Yurok Tribal Member. "The Klamath dam removal deal has received support from Oregon with Senate Bill 76, and now we need Governor Schwarzenegger to step up."
Meanwhile, California Legislators will join hundreds of members of environmental organizations, sportfishing groups, farmers and community activists as they hold a rally at the North Steps of the State Capitol in Sacramento on Tuesday, July 7, 2009 at 11 a.m. to voice concerns around a package of yet-unreleased water bills. A hearing on the water bills originally scheduled for July 7 has been cancelled and no new date has been set.
Delta advocates fear that this bill package will include the enormously costly and environmentally destructive peripheral canal and more dams to export more water to corporate agribusiness on the west side of the San Joaquin Valley. Rally participants will express the Delta's need for a voice in these negotiations and the responsibility of the State Legislature to allow for a full and public debate on these important issues.
A proposition to build the peripheral canal was overwhelmingly rejected by California voters in 1982. However, Governor Arnold Schwarzenegger, Senator Dianne Feinstein and their allies in the legislature, under pressure from San Joaquin Valley land barons, have been relentlessly campaigning for a new version of the canal - euphemistically called "improved conveyance" - since June 2007.
A water bond would cost the taxpayers anywhere from $10-40 billion today and much more over the thirty years to pay it back, according to Steve Evans of Friends of the River. This is at a time when the Governor has proclaimed a "fiscal emergency" because of the $24.3 billion deficit. Schwarzenegger on July 1 issued an executive order to impose three furloughs per month and called the Legislature into a Special Session - and yet he continues to push this insane government boondoggle and pork barrel project!
Senator Lois Wolk and other members of the California State Legislature will speak at the rally. Other speakers include Rudy Mussi, a Central Delta farmer, Bill Jennings, Chairman of the California Sportfishing Protection Alliance, Zeke Grader, Executive Director of the Pacific Coast Federation of Fishermen's Associations, Robert Johnson, Contra Costa Delta Fisherman's Group, Charlotte Hodde, Planning and Conservation League, Debbie Davis, Environmental Justice Coalition for Water, Steve Evans, Friends of the River, and Barbara Barrigan-Parrilla, campaign director of Restore the Delta. Spanish speakers will be present.
For updates on this rally and the battle to restore California Delta and Central Valley fish populations, go to
http://www.calsport.or
or
http://www.restorethedelta.org
.
We are 100% volunteer and depend on your participation to sustain our efforts!
Get Involved
If you'd like to help with maintaining or developing the website, contact us.