From the Open-Publishing Calendar
From the Open-Publishing Newswire
Indybay Feature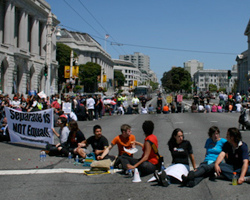 Fri May 22 2009
(Updated 05/31/09)
Street Actions Follow May 26th Court Ruling on Prop 8
Protests Follow Supreme Court Decision Upholding Proposition 8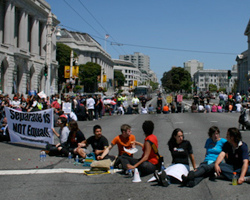 At 10am on Tuesday May 26th, in a 6-1 decision, the California Supreme Court's ruled in favor of Proposition 8 banning future same-sex marriages but upholding existing same-sex marriages. In the one dissenting opinion, Judge Moreno stated "This could not have been the intent of those who devised and enacted the initiative process. In my view, the aim of Proposition 8 and all similar initiative measures that seek to alter the California Constitution to deny a fundamental right to a group that has historically been subject to discrimination on the basis of a suspect classification, violates the essence of the equal protection clause of the California Constitution and fundamentally alters its scope and meaning."
California Upholds Proposition 8 Gay Marriage Ban, Leaves 18,000 Same-Sex Marriages Intact |

PDF Of Decision: Strauss vs. Horton, S168047 | PROP 8 UNHELD 6-1 | Judge Moreno's Dissent |

Gay Marriage Advocates Likely to Seek Another Ballot Vote | Feminist Majority Coverage | ACLU Coverage | Supreme Court Perverts Power of Initiative Process | California Was The Future
Street actions to protest discrimination are taking place throughout the day in California and elsewhere in the nation. Most actions took place at 6pm, but immediate action upon the announcement took place in Los Angeles, Sacramento, San Francisco and Palo Alto. In San Francisco, police arrested more than 150 protesters for blocking the intersection of Van Ness and Grove near City Hall shortly after the ruling was announced.
Fresno:

Photos
Santa Cruz:

Photos
Palo Alto:

Photos 1 | 2
San Francisco:

Photos: 1 | 2 | 3 | 4 | 5 Coverage Of Arrests Near SF City Hall
Los Angeles:

AJLPP Statement |

Press Conference At Gay and Lesbian Center
Sant Barbara:

Photos
San Diego:

Video |

Over 4,000 Rally |

Over 70 Activists Occupy San Diego County Clerk's Office
On
Saturday, May 30th
, a rally of California-wide advocates for national LGBT equality will be held in
Fresno
. Organizers chose Fresno for its location in the middle of the state and because California's Central Valley population is more representative of "middle-America" attitudes. They say that the struggle for full equality for gays and lesbians has to be won in towns like Fresno, and not just in LGBT-friendly metropolitan areas.
San Francisco | Palo Alto | Santa Cruz and Watsonville | Salinas | Monterey | Hollister | Day of Decision | Meet in the Middle | Rage about prop8? Its White Night Time | How to Protest the Prop 8 Decision

MarriageEquality.org | Previous Indybay Coverage
We are 100% volunteer and depend on your participation to sustain our efforts!
Get Involved
If you'd like to help with maintaining or developing the website, contact us.