From the Open-Publishing Calendar
From the Open-Publishing Newswire
Indybay Feature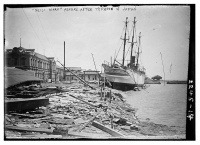 Mon Mar 14 2011
(Updated 04/01/11)
Nuclear Disaster in Japan After Earthquake and Tsunami
Californians Ask of Japan's Nuclear Disaster, "Could it Happen Here?"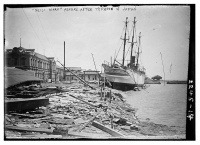 Weeks after a giant tsunami engulfed Japan's Fukushima nuclear plant, Tokyo Electric Power Co. is still struggling to bring the radiation crisis under control. Radiation has seeped into the soil and seawater and made its way into produce, raw milk and tap water. The Japanese government has admitted that its safeguards were insufficient to protect the nuclear plant. Radiation levels have increased in 15 US states from the nuclear disaster in Japan.
A disaster scenario continues to rock Japan's Fukushima Daiichi nuclear power complex, following the unprecedented 9.0 earthquake and mega tsunami near Sendai on March 11. Over five thousand miles away, Californians are feeling the fallout of Japan's tragedy. A tsunami triggered by the natural disaster caused the death of one Californian, an estimated $50 million in damage, and spillage of fuels and other pollutants in the seaside towns of Santa Cruz and Crescent City. The devastating events have Californians wondering if their own coastal nuclear power planets are safe, causing a wave of political debate to unfurl.
CA Nuclear Plant Workers Reported Safety Violations
|
Radiation Levels Increase in 15 US states from Japan Disaster
|
Speak Out in San Francisco to Close Diablo Canyon
|
Tsunami and Nuke Plant Blasts No Natural Disaster
|
Major Japanese Union Says Government Wanted Nuclear Power for Armament
|
Update: Japan's Nuclear Crisis
|
Is the NRC Abandoning California?
Nuclear Regulatory Agency, Wake Up!
|
Germany Accelerates Switch to Renewable Energy
|
US Nuclear Emergency Planning Needs an Overhaul
|
Nuclear Regulators: "Japan in Crisis but No Changes Needed in US"
|
US Nuclear Regulators Meet Today
|
Protesters Plus Lack of Investors will Hurt Nuclear Industry
|
From Bad to Worse in Japan
|
PHOTOS: Anti-Nuke Demonstrators Rally in SF with Japanese and English Signs
|
Diablo Canyon Nuclear Plant in CA Called Unsafe
|
"No New Nuclear Reactors" Says Physicians Group
|
Contamination Shows Up in Food/Water in Japan
|
Slight Increase Measured in California's Radiation Level
|
Michio Kaku: "Japan's Leaders Living in a Fantasy Parallel Universe"
|
Anti-Nuclear March in San Francisco
|
Japanese Concede "Chernobyl Solution" may be Needed
|
Meltdown Could Send Radioactive Particles Throughout Japan and Beyond
|
Labor Demands: No dismissal under the pretext of the earthquake!
|
Treasure Island Could Face Tsunami Threat
|
It's Up to Us to Stop this Nuclear Threat
|
Japan Satellite Photos Before/After
|
No more taxpayer $ for more nuclear power!
Breaking News March 17
|
Americans Fleeing Japan
|
IAEA Report on Death, Damage, Destruction
|
Disappointing Results From Helicopters Dumping Water on Reactors
|
Armageddon Scenario in Japan
|
Expert: At Chernobyl Level Now
|
Warning from Nuclear Regulatory Commission: Situation in Japan Worsens
|
Clinton Concerned About Nuclear Sites on US Earthquake Faults
|
Looks as if only Heroic Efforts Can Save things now
|
Take one minute to tell Obama to reverse his support of risky nuclear power!
|
180 Nuclear Workers Now in Reactor: Face Extreme Risk
|
Japanese Nuclear Workers on a Suicide Mission
|
Red Alert in Japan: An Unfolding Nuclear Catastrophe
|
Major Aftershock Rocks Japan
|
Workers Withdrawn from Nuclear Plant Due to Dangerous Levels of Radiation
|
Obama Administration: Build More Nukes
|
Japan's Nuclear Nightmare: The Price of Technological Optimism
|
Americans Urged to Leave Japan Affected Areas as Radiation Levels Rise in Tokyo
|
Breaking News 3/11-3/15
|
Nuclear Plant Leaking Could Affect US West Coast
|
Earthquake Meltdown At California Nukes: It Can't Happen Here?
|
Stephen Lendman on Nuclear Meltdown in Japan
|
Governor Brown Declares State of Emergency in Four California Counties Following Tsunami
Citizens Nuclear Information Center | Greenpeace | Japan Doro-Chiba Union English Site
We are 100% volunteer and depend on your participation to sustain our efforts!
Get Involved
If you'd like to help with maintaining or developing the website, contact us.