From the Open-Publishing Calendar
From the Open-Publishing Newswire
Indybay Feature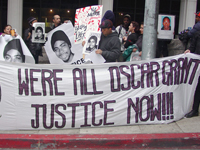 Thu Jun 10 2010
(Updated 07/07/10)
Historic Mehserle Trial for Murder of Oscar Grant Underway in L.A.
Oakland Community Wary of Outcome as BART Cop Johannes Mehserle's Murder Trial Begins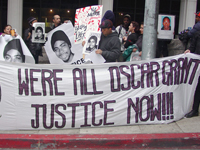 On June 1st, family, friends, and community activists gathered in front of Alameda County District Attorney Nancy O'Malleys office in Oakland to demand a vigorous prosecution of Johannes Mehserle for the murder of Oscar Grant. The trial represents the first time in California history a law enforcement officer has been tried for murder in a line-of-duty shooting. Those gathered solemnly recognized that the Judge overseeing the trial, Los Angeles County Superior Court Judge Robert J. Perry, has granted a number of requests from Mehserle's defense attorney Michael Rains intended to shift the blame to Oscar Grant for his own murder.
The next day jury questionnaires were handed out in Los Angeles Superior Court and — after numerous motions have been heard in pre-trial hearings in LA this year and a jury was selected last week which includes no African Americans — the long-awaited trial began with opening statements on June 10th. Alameda Deputy DA David Stein declared in his opening remarks, "The shooting of Oscar Grant was the result of [BART police] emotions taking over. It was the result of aggression taking over for training and discipline." He asked jurors, "What happens when an officer believes he has the right to mistreat, abuse people in a public setting?"
On June 14th, the beginning of the first full week of trial, the LA Coalition for Justice for Oscar Grant made a call — "All Out to the Courthouse" — and hundreds rallied for justice. In Oakland, a mass community gathering has been called for 14th Street and Broadway at
6pm the day of the Mehserle verdict
.
Reports, court filings, photos, audio, video and more:
Mehserle Trial Motion JNOV
|


oscar grant flyers spotted around south berkeley
|
Tears Flow as the Defense Rests in Mehserle Trial
|
Will the Killer of Oscar Grant Go Free?
|
Johannes Mehserle pulverized on the witness stand
|
COMMUNIQUÉ: MANSLAUGHTER IS NOT ENOUGH! IT'S MURDER OR NOTHING!
|
Los Angeles Coalition for Justice for Oscar Grant to US Obama/Holder Justice Dept
|
Urge police to 'give back'
|

Benefit for Oscar Grant's Mother!
|
Drop All the Charges Against Opi and David
|
Splitting Hairs at the Oscar Grant Trial
|

Photos from 6/14 Mass Protest at Mehserle's Trial in Los Angeles:
1
|
2
|
3
|
4
|

Video from 6/14 Mass Protest at Mehserle's Trial
|

Tolteka Music Video: Justice 4 Oscar
|
Curious Stance by California NAACP
|

Hundreds Demand Justice for Oscar Grant Outside L.A. Courthouse
|
Central Valley Coalition & Justice for Oscar Grant coming together....
|

Mehserle's Failed Attempt to Exclude Sophina Mesa Testimony & Oscar Grant Taser Photo
|
Killer of Oscar Grant on Trial
|

Oakland Town Hall Report from First Two Days of Mehserle Murder Trial in LA: audio
|
Rally for Justice for Oscar Grant - Stop Killer Cops, Los Angeles, June 14th
|

Two-Hour Oscar Grant Special on KPFA, June 12th
|
New flyer for gathering on day of Mehserle's verdict
|
National Week of Art for Oscar Grant!
|

KPFA: JR Valrey of Block Report Radio interviews Thandi Chimurenga on Mehserle trial
(6/9/10) |

Video of family and supporters on the first day of Mehserle's trial in LA - June 10, 2010
|
A Cursory Look at Some of the Issues of the Johannes Mehserle Trial - FIVE
|

KPFA: Update from Thandisizwe Chimurenga on the Oscar Grant Trial
(6/10/10) |
Murder Trial Begins for the Killer of Oscar Grant
|
Oscar Grant took photo of Mehserle pointing taser at him before Mehserle drew gun and shot him in the back
|

Mehserle's Defense Moves to Prevent Jurors Knowing Pirone Yelled "Bitch Ass Nigger" at Oscar Grant
|
Jury Set with No African American Jurors, Defense Seeks to Exclude Video in Oscar Grant Trial
|
The jury in People v. Mehserle has been sworn in
|

Potential Jurors in Mehserle Murder Trial Questioned on Oakland, Race, Tasers, Police, and BART
|

Sunset Vigil for Oscar Grant and All Police Victims Warns that Justice Is in Danger
Financial support requested:
Court Update on Holly, JR and Drew of the Oakland 100
Oakland Day of Verdict community gathering announcements: 1 | 2 | 3
A few previous related Indybay features:
BART Action Disrupts Trains with "No Justice, No Rush" in San Francisco
|
Judge Orders Mehserle to Be Tried in Los Angeles County
|
Mehserle's Trial for Murder of Oscar Grant Ordered Moved Due to Protesters & Jury "Bias"
|
Johannes Mehserle's Racist Change of Venue Motion Cites Indybay and Community Activists
|
Preliminary Hearing Concludes for BART Police Officer in the Murder of Oscar Grant III
|
Mehserle Arrested, Protests Continue
|
Rally and Rage Over BART Police Murder of Oscar Grant
Full coverage of the Justice for Oscar Grant movement
We are 100% volunteer and depend on your participation to sustain our efforts!
Get Involved
If you'd like to help with maintaining or developing the website, contact us.