From the Open-Publishing Calendar
From the Open-Publishing Newswire
Indybay Feature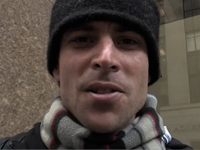 Thu Sep 24 2009
Gabe Meyers First Oscar Grant Protester to Be Sentenced
Gabe Meyers Sentenced to 30 Days Labor or Jail For Paint Action at BART Meeting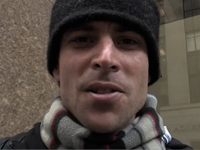 On April 9th, No Justice No BART assumed control of BART's Board of Directors meeting. After numerous community activists spoke during the meeting takeover, Gabe Meyers independently threw a small amount of red paint onto BART General Manager Dorothy Dugger and Assistant General Manager Marcia deVaughn. He was tackled and arrested on the scene by BART police. He was originally charged with three counts of battery, vandalism, and disturbing a public meeting. On September 4th, Gabe Meyers accepted a plea bargain that was offered to him by the judge in his case, for just the disruption of a public meeting charge. In the courtroom, the judge described Gabe's action as civil disobedience in the tradition of earlier civil rights and Vietnam-era anti-war protests that shaped our society. On November 4th, Gabe is scheduled to either begin his alternate sentence of 30 days labor in the Alameda County Sheriff's Work Program or to report to jail.
Gabe Meyers speaks about throwing red paint on BART General Manager Dorothy Dugger:
"I felt that a strong statement of protest was necessary and I had decided to act.... I think the only way that things are going to get done is the way in what this judge has talked about in how this society has been shaped before, the way people have done it in the 50s and 60s when they fought for civil rights, and that's in terms of protest, and that's in terms of civil disobedience, and that's in terms of saying what you do at BART, what the BART police have done, what the District Attorney's office has done, is unacceptable and we're not going to tolerate it. That was my attitude that day when I splattered the paint. It's unacceptable. I wanted to let the BART Board know in a big way.... And I was willing to go to jail."

Read More with Video
Related Indybay Coverage:
Gary King Jr Memorial removed by BART
|
Gabe Meyers Sentenced to 30 Days for Throwing Red Paint on BART GM Dorothy Dugger
|

Gabe Meyers Arrested at BART Board Meeting: video
|
Gabe Meyers: Why the Paint?
|
Gabriel Meyers arrested, charged with battery on BART GM
Previous Indybay Reports About or By Gabe Meyers:

Tristan: Gabe Meyers & Starhawk
|
Last time there was a big problem
|
The Scapegoat's Tale: An Interview with Gabe Meyers
|
Josh is free, but others should be in prison
|

Gabe Meyers is Free!
|
What I got to say
|
Opening Arguments in the Trial of Gabe Meyers
|
Gabe Meyers Invokes Right to a Speedy Trial
Pre-trial Hearing for Gabriel Myers on July 20th
|
Support anti-G8 activist Gabriel Meyers
|

The Bay Area's G-8 Defendant, Gabe Meyers, Speaks
We are 100% volunteer and depend on your participation to sustain our efforts!
Get Involved
If you'd like to help with maintaining or developing the website, contact us.