From the Open-Publishing Calendar
From the Open-Publishing Newswire
Indybay Feature
Related Categories:

International | San Francisco | Global Justice & Anti-Capitalism | Police State & Prisons
Action in San Francisco this Saturday in Solidarity with Greece!
On Saturday, December 20th a march will begin at 24th and Mission at 4:00 PM as part of an international day of action called for by the assembly of the occupied Athens Polytechnic University.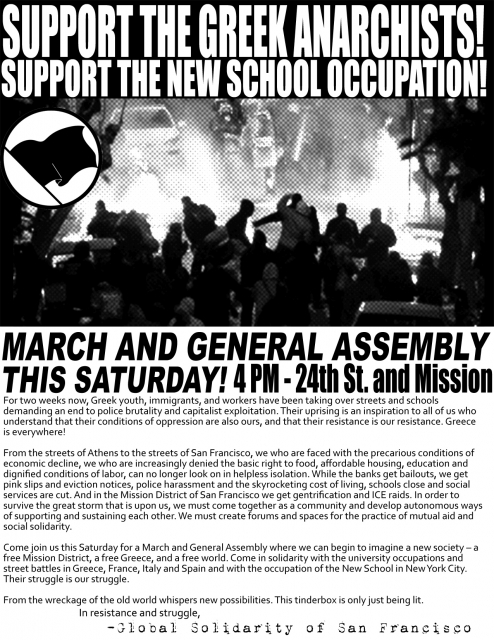 /////FORWARD WIDELY/////

INTERNATIONAL DAY OF SOLIDARITY WITH THE GREEK UPRISING
THIS SATURDAY, DECEMBER 20TH!

For two weeks now, Greek youth, immigrants, and workers have been taking over streets and schools demanding an end to police brutality and capitalist exploitation. Their uprising is an inspiration to all of us who understand that their conditions of oppression are also ours, and that their resistance is our resistance. Greece is everywhere!

From the streets of Athens to the streets of San Francisco, we who are faced with the precarious conditions of economic decline, we who are increasingly denied the basic right to food, affordable housing, education and dignified conditions of labor, can no longer look on in helpless isolation. While the banks get bailouts, we get pink slips and eviction notices, police harassment and the skyrocketing cost of living, schools close and social services are cut. And in the Mission District of San Francisco we get gentrification and ICE raids. In order to survive the great storm that is upon us, we must come together as a community and develop autonomous ways of supporting and sustaining each other. We must create forums and spaces for the practice of mutual aid and social solidarity.

Come join us this Saturday for a march and General Assembly where we can begin to imagine a new society – a free Mission District, a free Greece, and a free world. Come in solidarity with the university occupations and street battles in Greece, France, Italy and Spain and with the occupation of the New School in New York City. Their struggle is our struggle.

From the wreckage of the old world whispers new possibilities. This tinderbox is only just being lit.

In resistance and struggle,

Global Solidarity in Action, San Francisco

--------------------------------------------------
March and General Assembly

On Saturday, December 20th a march will begin at 24th and Mission at 4:00 PM as part of an international day of action called for by the assembly of the occupied Athens Polytechnic University. Worldwide actions are planned in resistance to global capital and exploitation, in memory of all assassinated youth, and in solidarity with migrants and other marginalized people and all those struggling for freedom and human dignity.

PROTESTA Y MARCHA
DIA INTERNACIONAL EN SOLIDARIDAD CON LA REVOLTA GRIEGA
ESTE SABADO, 20 DICIEMBRE

CUANDO: Sábado, 20 diciembre, 4pm
DONDE: en la intersección de las calles 24th y Mission, San Francisco

Este sábado, 20 de diciembre, como parte de un día de acción internacional se hace el llamado por la asamblea de la ocupada Universidad Politécnica de Atenas, se va realizar una marcha que comenzara en la intersección de las calles 24th y Mission a las 4pm. Acciones mundiales han sido planeadas para resistir el capitalismo y su explotación global, en memoria de tod@s l@s jóvenes asesinad@s, y en solidaridad con l@s migrantes y l@s demás quienes han sido marginalizad@s y quienes están luchando por la libertad y la dignidad humana.

Por dos semanas, la juventud griega, inmigrantes, y obreros han tomado las calles y las escuelas demandando el alto a la brutalidad policial y la explotación capitalista.

Durante la semana pasada, estudiantes de la ocupada Universidad Politécnica de Atenas dieron una proclamación instando acciones solidarias para el 20 de diciembre – para conmemorar la muerte del estudiante griego que fue asesinado por la policía, y para conmemorar l@s otr@s jóvenes asesinados por la policía en el resto del mundo, jóvenes como Alwy Al-Nadhir, Byron Debassige, Fredy Villanueva, Carlo Giuliani, y Claudia Lopez.

Al mismo tiempo, aquí en nuestras tierras estamos enfrentando crecientes condiciones inciertas – y el pueblo, l@s inmigrantes, la juventud, y l@s demás marginalizad@s de nuestra sociedad quienes están sufriendo este maltrato. Desde las calles de Atenas hacia las calles de San Francisco, nosotr@s no podemos permitir hacer nada mientras las comunidades marginalizadas enfrentan unas condiciones precarias y derechos básicos y dignos como alimentación, vivienda, educación, y condiciones laborales son negadas.

Mientras que los bancos están recibiendo rescates económicos del gobierno, nosotr@s estamos recibiendo cartas de despido, órdenes de desalojo, hostilidad policial, aumento en los costos de vivienda, cierre de escuelas, y recortes de servicios sociales. AQUÍ en la Mission, nostr@s recibimos desplazamiento y redadas de inmigración. Necesitamos unirnos como comunidad y desarrollar maneras autosuficientes para apoyarnos mutualmente y sobrevivir y desafiar las consecuencias del capitalismo.

ACOMPAÑENOS

Ven acompañarnos este sábado para una marcha y Asamblea General donde podemos empezar a imaginar una nueva sociedad – un barrio libre, una Grecia libre, y un mundo libre. Ven en solidaridad con las ocupaciones universitarias y batallas en las calles de Grecia, Francia, Italia, España, y con la ocupación de la Nueva Escuela en la ciudad de Nueva York. SUS LUCHAS SON NUESTRAS LUCHAS.

EN RESISTENCIA Y EN LUCHA



SOLIDARIDAD MUNDIAL EN ACCIÓN, SAN FRANCISCO

We are 100% volunteer and depend on your participation to sustain our efforts!
Get Involved
If you'd like to help with maintaining or developing the website, contact us.