From the Open-Publishing Calendar
From the Open-Publishing Newswire
Indybay Feature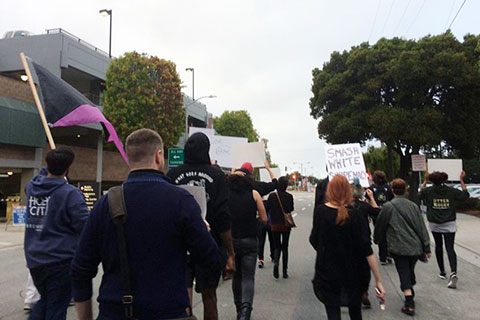 Tue Aug 15 2017 (Updated 08/16/17)
Protest in Monterey in Solidarity with Charlottesville
Tue Aug 15 2017 (Updated 08/16/17)
Total Opposition to All Forms of White Supremacy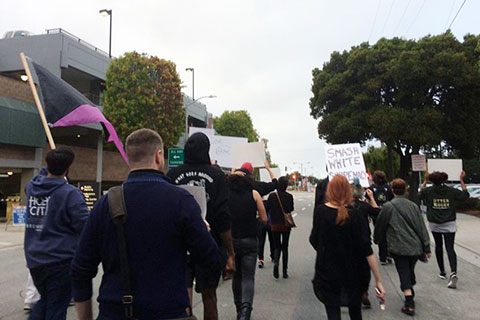 On August 14, the Direct Action Monterey Network joined together with other community members to stand against fascism and white supremacy, and to show solidarity with the people of Charlottesville. The demonstration, which began at Monterey Bay Custom House Plaza, included reading a solidarity statement, displaying banners over the Lighthouse Avenue tunnel, and a march in the streets.
Other Bay Area demonstrations in solidarity with Charlottesville have taken place in San Francisco, Oakland,
Santa Cruz
, Watsonville, and many other cities both large and small.
Direct Action Monterey Network states:
We are gathering today to show our opposition to white supremacy in all its forms, and to stand in solidarity with all those in Charlottesville who are fighting against fascism. We stand against the recent violence from white supremacists and the "alt-right" in Charlottesville as well as similar acts of violence in Portland, Seattle, Minneapolis, and Sacramento.
We also oppose violence from institutional structures of white supremacy such as police, prisons, borders, the military, economic exploitation, and colonialism. This includes local iterations of these structures. Mirroring national trends, local police have murdered homeless people, immigrants, and people of color in recent years. The Monterey County Sheriff's Department collaborates with federal immigration enforcement.
Numerous military institutions on the Peninsula help maintain America's empire abroad. The very economic foundation and geographic arrangement of this region is based on structures of class and racial-caste. The early colonial roots of this region, from the original theft of this land by Europeans to the purging of Chinese fishing communities by white settlers, is unapologetically celebrated.

Read More and View Photos | Direct Action Monterey Network
Related Feature:


Charlottesville, We Got Your Back
Related Categories:

Santa Cruz Indymedia | Global Justice and Anti-Capitalism | Racial Justice