From the Open-Publishing Calendar
From the Open-Publishing Newswire
Indybay Feature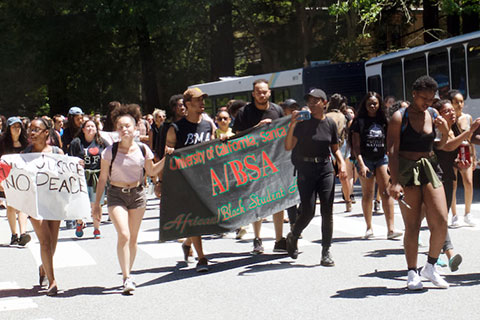 Tue May 2 2017
(Updated 05/04/17)
UCSC's Kerr Hall Reclaimed Until A/BSA Demands Are Met
Students Reclaim Main Administrative Building at UC Santa Cruz to Press Demands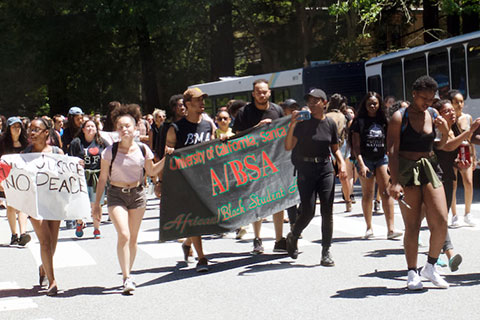 On May 2, hundreds of students
rallied in Quarry Plaza at UC Santa Cruz
to "let the Chancellor know Black Students need support from the University." Students then marched to Kerr Hall, the main administrative building at UCSC, and
launched a reclamation of the building
. Employees left the building, as students declared they will remain until the demands from Afrikan Black Student Alliance (A/BSA) are met.
A/BSA is one of the oldest and largest student organizations on the UCSC campus. Their demands, published on March 6 in City on a Hill Press and addressed to "Chancellor Blumenthal and any other involved party," begin by stating, "The Afrikan Black Caribbean identified students have spoken. The issues on this campus far exceed anything easily fixed. However Black students at UCSC have composed a list of
uncompromisable demands
that will make our time here more tolerable. These demands are not a huge ask, but they are pivotal to the retention of our community. If the university fails us, there will be no business as usual."
In a
May 2 statement
,
The Afrikan/Black Student Alliance writes:
We are pushing back against the language of "occupation" in recognition of the largely white-centric and fairly recent "Occupy Movement". We are pushing back against the language of "occupation" in recognition of the very real settler occupations that are hxstorical and ongoing, such as the European colonization and occupation of "The Americas", as well as the current context of occupation in Palestine. We move in solidarity with Black people all over the world who are occupied by liberalism and neoliberalism's devastating socioeconomic and political policies and materialities. This includes folks on The Continent, Palestinian people, and other Black and Brown people all over the world. While the actual actions during this Reclamation may appear the same as other "occupations" on campus and off-campus, we know that language does matter as do intentions.
In a meeting on May 4, Chancellor George Blumenthal agreed to meet all four demands presented by A/BSA. Students stress that the struggle continues, and they have many upcoming meetings with UCSC representatives.
Read More |

Photos | The Road To Reclamation
Related Features:
Students and Workers Rally to Demand Affirmative Diversity
(2006) |
UC Santa Cruz Students Occupy Administration Building
(2009) |
UCSC Student Walkout Ends with Rally on Roof of Administration Building
(2014)
We are 100% volunteer and depend on your participation to sustain our efforts!
Get Involved
If you'd like to help with maintaining or developing the website, contact us.