From the Open-Publishing Calendar
From the Open-Publishing Newswire
Indybay Feature
Students Occupy Main Administrative Building at UC Santa Cruz
Students say they will not leave until demands from the Afrikan Black Student Alliance (A/BSA) are met.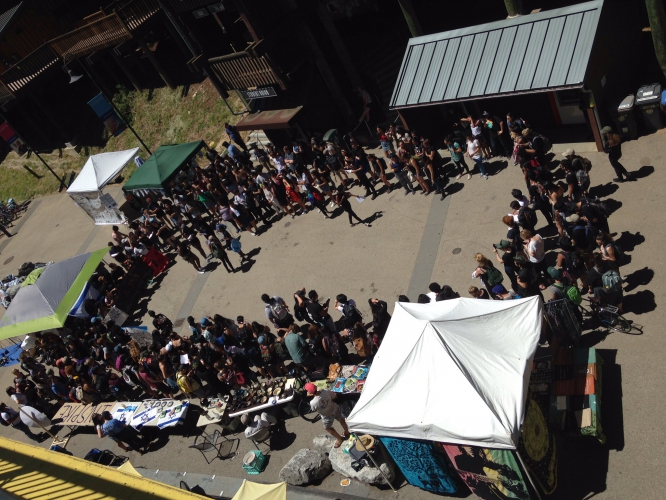 [ Photo by
City on a Hill Press
: Over 200 gather in the Quarry Plaza to march with the Afrikan/Black Student Alliance (A/BSA) demanding the chancellor meet their demands. ]
May 2, 2017. Hundreds of students have occupied Kerr Hall at UC Santa Cruz, and employees have left the building. Students say they will not leave until demands from the Afrikan Black Student Alliance (A/BSA) are met. Among the demands are affordable housing for PoC students and the reallocation of funds into PoC group causes.
By Afrikan Black Student Alliance (A/BSA)

To Chancellor Blumenthal and any other involved party,

The Afrikan Black Caribbean identified students have spoken. The issues on this campus far exceed anything easily fixed. However Black students at UCSC have composed a list of uncompromisable demands that will make our time here more tolerable. These demands are not a huge ask, but they are pivotal to the retention of our community. If the university fails us, there will be no business as usual.

1. We demand the university purchase a property located at or near the base of campus (High Street) to serve as a low-income housing cooperative for historically disadvantaged students. We demand this property have 4 bedrooms with appropriate furnishings. This property will then be student ran and student operated by the Afrikan Black Student Alliance. We demand a written agreement to fund this project by beginning of spring quarter.

2. Similar to EOP students and International students' housing guarantees, we demand that ALL African Black Caribbean identified students have a 4-year housing guarantee to live in the Rosa Parks African American Themed House. Guaranteeing this would provide a viable living option to all ABC identified students regardless of housing status and college affiliation. We demand a written agreement by the opening of housing applications in April 2017.

3. We demand the university remove the beds and release the Rosa Parks African Themed House lounge so it can serve its original purpose. We demand the lounge be returned by Fall 2017.

4. We demand that the university fund the ENTIRE exterior of the Rosa Parks African American Themed House being painted Pan-Afrikan colors (red, green, and black) by the start of spring quarter 2017. These Pan-Afrikan colors represent Black liberation, and represent our diaspora, and the goals of our people.

5. We demand that all new incoming students from 2017-2018 school year forward (freshman and transfers) go through a mandatory in-person diversity competency training in the event that the online module is not implemented by JUNE 2017. We demand that the training be reviewed and approved by A/BSA board every two years. We demand that every incoming student complete this training by their first day of class.

6. We demand the university allocate an additional $100,000 to the SOAR/Student Media/Cultural Arts and Diversity (SOMeCA for the hiring of an advisor who has personal and professional experience handling African/Black/Caribbean student issues) permanently. We demand A/BSA has a final decision on who is hired for this position.

7. We demand a response from Chancellor Blumenthal and all interested parties by April 3, 2017.

The reasoning and justification for each of the above-mentioned demands is detailed below:

1. We demand the university purchase this cooperative because the Santa Cruz housing crisis has negatively impacted Black students. Many ABC identified students have been forced to take leaves of absences, withdrawals, or have not been able to attend UCSC at all due to limited, and unaffordable housing options. Similar student ran cooperatives exist at our sister campuses and it is a concrete mechanism by which UCSC can retain Black students.

2. International students, Regents students, and Smith Renaissance Society students alike all have 4-year guarantee housing. We demand that ABC identified students have a 4-year guarantee at the Rosa Parks African American Themed House, a house intentionally designed to create space for students to feel connected, safe and supported in a community centered on the experiences of Black/African American peoples. This is a primary focal point for the staff supporting R.PAATH. In light of this original purpose, our community needs to be prioritized on the issue of housing security.

3. Lounge spaces, especially the R.PAATH lounge, have historically served as a safe space for ABC students. Releasing this space to serve its original purpose will help retain ABC identified students on this campus.

4. Throughout western history, ABC folks have been pushed into the margins of western society. Currently, ABC students are being pushed into the margins of UCSC housing. R.PAATH was fought for to give ABC students visibility, pride and a safe haven within this predominantly white institution. Over the few years, these values of R.PAATH have been diminished by UCSC's apparent policy and lack of concern. We believe painting this house with Pan-Afrikan colors will revive the goals and purpose of R.PAATH. If ABC students are denied this expression of identity and agency we will once again fade into those historical margins. And fade into the margins quietly, we will not.

5. The Black Experience Team, Campus Climate reports, and student feedback alike all suggest that ABC students at UCSC, do not feel a sense of belonging here on campus. More culturally competent students on campus can help aide this problem, and help students feel more included around their peers.

6. SOMeCA and SOAR advisors have done their best to accommodate and advise the 9 present Black organizations on campus, however there is not someone who currently identifies, or has experience handling ABC identified issues due to budgetary restrictions. We demand the university provide an additional 100,000 dollars in the 2017-2018 and renewed annually to the SOAR/SOMeCA budget line item for the salary/benefits package of this advisor.
It has been clear from the beginning that A/BSA is reclaiming the space and not occupying. I encourage you to change the wording of this article.
We are pushing back against the language of "occupation" in recognition of the largely white-centric and fairly recent "Occupy Movement". We are pushing back against the language of "occupation" in recognition of the very real settler occupations that are hxstorical and ongoing, such as the European colonization and occupation of "The Americas", as well as the current context of occupation in Palestine. We move in solidarity with Black people all over the world who are occupied by liberalism and neoliberalism's devastating socioeconomic and political policies and materialities. This includes folks on The Continent, Palestinian people, and other Black and Brown people all over the world. While the actual actions during this Reclamation may appear the same as other "occupations" on campus and off-campus, we know that language does matter as do intentions.
Continue reading the statement at:
https://www.indybay.org/newsitems/2017/05/03/18799121.php
We are 100% volunteer and depend on your participation to sustain our efforts!
Get Involved
If you'd like to help with maintaining or developing the website, contact us.