From the Open-Publishing Calendar
From the Open-Publishing Newswire
Indybay Feature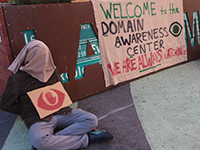 Tue Feb 18 2014
(Updated 02/22/14)
"Surveillance Won't Make Us Safe - Police Won't Make Us Free"
Oaklanders Rally to Stop Phase Two of the Citywide Domain Awareness Spy Center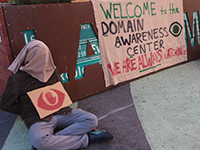 Across the US and the world, the FBI, DHS, NSA, CIA, and local police are monitoring and recording private emails, social media, and phone calls. Since 9/11, thousands have been harassed, deported, and arrested, while fusion centers coordinate between local cops and federal agents while logging data on millions. Those that speak out like Bradley Manning and Edward Snowden face years in prison and worse.
Fearing open rebellion in the wake of the Oscar Grant, Occupy, and Trayvon revolts, OPD and those in power in Oakland have pushed for the Domain Awareness Center (DAC) to become a
central hub for the surveillance of activists
, social movements, and the general poor and working-class population.
Claiming that they have to "do something" about crime and that "if we turn down the money we can't use it otherwise," City Council members have voted at least three times thus far to authorize spending on the DAC. The system is not yet fully functional, however, and local privacy advocates continue to fight to stop the DAC's implementation through
political
and
legal
channels, while others openly suggest "
camover
" guerrilla attacks against the growing number of surveillance cameras.
March 4:
The Oakland City Council discussed the DAC on February 18, with several council members appearing to swing against it with proposals to limit implementation to the Port of Oakland, rather than citywide, but put off a vote on this new scaled-back version until their next council meeting, March 4.
February 18:
Over 70 members of the public spoke unanimously against the DAC at the City Council meeting. The original issue to be examined by the Council was the conflict between Oakland's anti-nuke ordinance and potential DAC contractors with nuclear weapons ties, Schneider Electric being the latest contender. City staffers asserted that Schneider has not done nuclear work in at least 36 months.

Video:
Oakland City Council and 76 Members of Public Debate the DAC
|

Event Announcement: Stop The DAC and Schneider Electric at Oakland's City Council Meeting
February 11:
Privacy activists protested across the U.S. and the globe while supportive websites highlighted the issues surrounding mass surveillance by the N.S.A. and other governmental intelligence agencies.

Stop Spying On The People - SF Protest Over Government Corporate Spying
|
TheDayWeFightBack.org
February 4:
Oaklanders rallied at City Hall and marched with speakers, music, and art against the DAC.

Dan Siegel Speaks Out Against the Domain Awareness Center
|

Oakland DAC is martial law
|

Event Announcement
February 1:
Activists gathered in Latham Square to oppose Oakland's Domain Awareness Center.

Protesters Theatrically Oppose Repressive Domain Awareness Center
Read More:

From COINTELPRO to the Domain Awareness Center POSTER | EFF Submits Letter Opposing Oakland's Domain Awareness Center | OPD Documents Expose Grave Potential for Abuse of DAC - Selective Ideology-Based Enforcement |

OPD <3's DAC - Valentines Day Romance |

Berkeley KID Roasts Oakland Domain Awareness Center | The Nuclear Shit Hits The Fan: OPG Demands Oakland "Cease and Desist" Building the DAC! | Don't Sell Out The People Of Oakland To The Department Of Homeland Security | The Real Purpose of Oakland's Surveillance Center
Previous Related Indybay Features: Oakland's Vendor Pool to Complete the DAC Is Filled with Nuclear Weapons Contractors | Oakland Surveillance Center Approved in City Vote Amid Debate on Privacy & Data Collection | Dan Siegel Announces "Radical" Agenda If Elected Mayor of Oakland
Related Categories:

East Bay | Government & Elections | Police State & Prisons | Front Page
We are 100% volunteer and depend on your participation to sustain our efforts!
Get Involved
If you'd like to help with maintaining or developing the website, contact us.