Sun Feb 5 2012 (Updated 02/27/12)
Anti-Choice Walk for Life Marchers Say Media Biased Towards Pro-Choice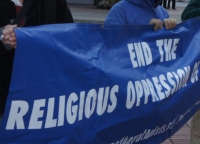 For the eighth year, anti-choice Walk for Life demonstrators bussed into San Francisco from across the state marched to protest the Supreme Court decision that legalized abortion 39 years ago. However, pro-choice activists celebrated the anniversary of Roe v. Wade with gatherings in the city's Justin Herman Plaza and in downtown Los Altos. Supporters of the Walk for Life West Coast event bemoaned the lack of news coverage given their march.
At San Francisco's pro-choice rally, speakers included Dr. Sophia Yen, who promoted the Silver Ribbon Campaign and Trust Women Week. Dr. Yen said, "The Silver Ribbon is the only ribbon I've ever worn." She also addressed the crowd in the San Francisco Peninsula city of Los Altos where a second rally was held.

Photos: 1 | 2 |

Videos: 1 | 2 | 3 |

Audio: 1 | 2 | 3 | Catholics Complain of News Blackout at San Francisco Anti-Choice Rally | Previous Indybay Feature: West Coast Rally for Reproductive Justice, Rain or Shine!
Silver Ribbon Campaign
Bay Area Coalition for Our Reproductive Rights