Mon Apr 18 2011 (Updated 04/26/11)
April 20 at UCSC, "Keep Santa Cruz Stoned"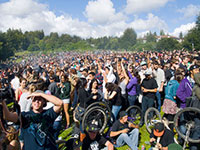 April 20, aka 420, is the international day to gather with friends and strangers to celebrate cannabis. The year is 2011 and more people than ever are stepping out of the "Cannabis Closet" to reduce cultural stigmas around the use of cannabis, and to promote all of its many positive uses for food, fuel, fiber and medicine.
Thousands of people converged on Porter Meadow at UC Santa Cruz. People adapted to the drizzle throughout the afternoon and took shelter in the woodlands and under redwoods surrounding the meadow. As in past years, UCSC police and administration restricted access by only allowing people with UCSC identification to drive onto campus.

Photos: Thousands Celebrate Four Twenty in the Forest at UC Santa Cruz

Announcement: 420 at UCSC | 420 in People's Park, Berkeley | 420 with Ed Rosenthal in S.F. | A year later... we still miss Jack Herer... R.I.P. Old Friend | 2010 coverage: Gatherings on 4/20, International Day of Marijuana Celebration