Mon Jan 17 2011 (Updated 01/24/11)
Women's Rights Activists to Counter Annual "Walk for Life"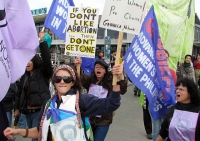 January 22nd
marked the 38th anniversary of the passage of Roe v. Wade. The anti-choice, anti-gay Walk for Life organization bused people into the city of San Francisco for a march in support of criminalizing abortions. Pro-Choice activists countered them with a rally and march along the city's waterfront.
This was the 7th year an organized march against womens' choice was held in the city; every year a vociferous group of protesters has demonstrated nearby. This year's Pro-Choice rally started at Harry Bridges Plaza in front of the Ferry Building at 11am.

Photos: 1 | 2 | 3 |

Video: 1 | 2 |

Audio

Event Announcement |

Audio: Celebrate the Anniversary of Roe v. Wade

Previous years of SF "Walk For Life" counter-protests: 2010 | 2009 | 2008 | 2007 | 2006