From the Open-Publishing Calendar
From the Open-Publishing Newswire
Indybay Feature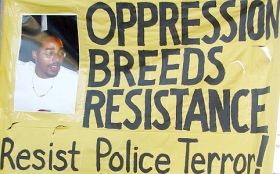 Sun Mar 22 2009
(Updated 04/16/09)
Five Die After Reported Gunfire Between Lovelle Mixon and Oakland Police
Oakland Police Kill African American Man in Haste; 4 Cops Also Die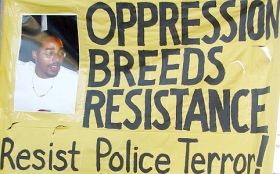 On Saturday March 21st, five people were killed, after police pulled over a man in East Oakland.
Copwatch13 writes:
"[F]or the second time in recent months, police in Oakland shot and killed a young African American man apparently after prematurely resorting to the use of deadly force when alternative remedies were available.
"It all started at 1:15 p.m. near the 7400 block of MacArthur Boulevard in East Oakland. Police allege that Lovelle Mixon shot the two traffic officers and then fled. According to police, about two hours after the shooting, they had information which led them to believe Mr. Mixon was hiding alone in [an] apartment on 74th Avenue near Hillside Street. At that point, over 200 officers from the Oakland Police, Alameda County Sheriff's Office, BART Police and the California Highway Patrol surrounded the area where Mr. Mixon was believed to be.
"However, rather than attempt a carefully planned, negotiated, non-violent ending, and angry over the shooting of the two traffic officers, a hasty Oakland Police SWAT Team apparently rushed into the building armed with military rifles, assault weapons and other means of deadly force to use against Mr. Mixon. There was allegedly an exchange of gunfire between Mr. Mixon and the SWAT officers. It's not clear yet whether Mr. Mixon fired in self-defense, but no information suggests that he was a threat while he remained there alone. In the exchange of gunfire, Mr. Mixon was killed. Three SWAT officers were also shot, two of whom later died."
Read more
On March 24th, a vigil organized by Oakland City Councilmember Desley Brooks was held at the intersection of 74th Avenue and MacArthur for the four dead police officers.


Audio & Photos
A vigil and rally for Lovelle Mixon
and his family was held Wednesday, March 25 at 6pm at 7911 Macarthur Blvd. (at 79th) in Oakland.

Photos: 1 | 2 |

Audio |

Announcement
See Also:

Interview with Lovelle Mixon's Family
|
Lovelle Mixon, Police, and the Politics of Race/Rape
|
Fliers across East Bay and at cop funeral encourage more cop killing
|
Will OPD Swat Team Actions Ever Be Questioned?
|
In Honor of Lovelle Mixon: Cheering Those Who Fire Back
|
The 'Karmic Justice' of Lovelle Mixon's Act
|
Support Economic and Social Justice, Not Police Containment in Oakland
|
"To Kill or Not to Kill... Be Killed or Not Be Killed... That is NOT our Question!"
|
On Lovelle Mixon, the Media and, Police Violence
|
Lovelle Mixon's Funeral - March 31, 2009
|

Oakland PD's Favorite Cop-Killer: Gov. Schwarzenegger
|
The Differences: Being Black or White and a Murderer
|
Two standards of grief
|
Oakland Police Killed: "Change" Has Come
|


Town Hall Addresses Lovelle Mixon, Oscar Grant, & the OPD, 3/28/09
|
Bash Back!: Solidarity With All Cop Killers
|
Shameful Display of the Traducers in Blue Which Cost You Millions
|
Kill and be killed: Police murders in Oakland
|
Occult Meaning Of Lovell Mixon Ritualistic Killing Of 4 Cops In Oakland
|
Lovelle Mixon TV Vigil and TV Rally Coverage
|
Oakland Police Shooting Debate Rages on Internet
|
Notes from the occupied territories: Black America and the police
|
Police 2, Oakland residents 4
|
Uhuru Movement statement on killing of four Oakland officers and Lovell Mixon
|
Killer Cop Injured in OPD SWAT Raid
|
Understanding the Dialogue around Lovelle Mixon
|
Young People Anticipate the Aftermath of Mixons Rampage
|
Hating Lovell and Loving Obama
|
An Infamous Legend is Born and a Community is Under Siege
|
Oakland Police Massacre Casts Ugly Glare on Ex-Felon Desperation
|
Defend African People's Right to Resist!
|
Chip Johnson Just Doesn't Get It With His Broad Call to "Back the Badge"
|
Meeting at Oakland Uhuru House
|
2, maybe 4 cops killed by a single shooter in East Oakland
We are 100% volunteer and depend on your participation to sustain our efforts!
Get Involved
If you'd like to help with maintaining or developing the website, contact us.