From the Open-Publishing Calendar
From the Open-Publishing Newswire
Indybay Feature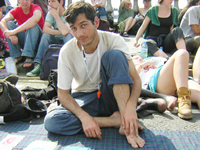 Fri Mar 13 2009
(Updated 03/19/09)
Tristan Anderson Critically Injured After Demonstration Against Israeli Wall
Oakland CA Resident Tristan Anderson Critically Injured by IDF Tear Gas Canister in Ni'lin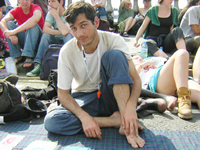 Updates about Tristan's condition:
On
March 15th
, Tristan moved his fingers in response to a request from a doctor.
March 14th
On March 13th, 2009, Tristan Anderson, from Oakland, California was critically wounded in the village of Ni'lin after Israeli forces
shot him
in the head with a high-powered tear-gas canister. Tristan is a dedicated activist and reporter who has long been committed to social and environmental justice in the U.S. and abroad in places such as Oaxaca, Iraq, and Palestine. Tristan has posted his reports to Indybay since 2001.
As a result of his injuries, Tristan Anderson, 38 years old, has been taken to Israeli hospital Tel Hashomer, near Tel Aviv. Anderson is unconscious and had been bleeding heavily from the nose and mouth. He sustained a serious injury to his forehead where he was struck by the canister. He is currently being operated on.
"Tristan was shot by the new tear-gas canisters that can be shot up to 500 meters," reports Teah Lunqvist (Sweden) with the International Solidarity Movement. "I ran over as I saw someone had been shot, while the Israeli forces continued to fire tear-gas at us. When an ambulance came, the Israeli soldiers refused to allow the ambulance through the checkpoint just outside the village. After 5 minutes of arguing with the soldiers, the ambulance passed."
Tristan Anderson was shot as Israeli forces attacked a demonstration against the construction of the annexation wall through the village of Ni'lin's land. Another resident from Ni'lin was shot in the leg with live ammunition. Several other demonstrators against the wall have been killed or rendered brain dead as a result of IDF use of rubber-coated steel bullets and live ammunition in the villages of Ni'ilin and Bil'in.
Other ISM activists killed or injured by Israeli forces:
Rachel Corrie
, killed by a bulldozer in March 16th, 2003;
Brian Avery
, shot in the face in April 2003; and
Tom Hurndall
, shot to death in 2004.
7141 Palestinians have been killed by Israel
since September 2000.
Read More: 1 | 2 | 3 |

Video | Starhawk: Tristan Shot in the West Bank | David Rovics: The Israeli Terror (and Tristan Anderson) | International Solidarity Movement
Recent Coverage By Tristan
(he also posted as "Eric Blair" and "Cricket"):

Four Demonstrators Shot and Wounded in Ni'ilin, Palestine |

2006-2008 Berkeley Oaks Tree Sit |

2008 Reclaim The Streets Protest |

2008 Iraq War Protest |

2008 Chevron Protest |

Fossil Fools Bike Ride |

Anti-War Bike Ride |

Hamburg protest against ASEM and the G8 |

Brad Will memorials in Oaxaca

Tristan's 2004 Posts From Iraq |

Tristan Speaking in 2004 About His Trip to Iraq During First Year of War |

Arrested at 2004 Reclaim The Commons Protest |

Tristan's 2006 Report Back From Oaxaca
More Of Tristan's Indybay Reports Over the Years
We are 100% volunteer and depend on your participation to sustain our efforts!
Get Involved
If you'd like to help with maintaining or developing the website, contact us.