From the Open-Publishing Calendar
From the Open-Publishing Newswire
Indybay Feature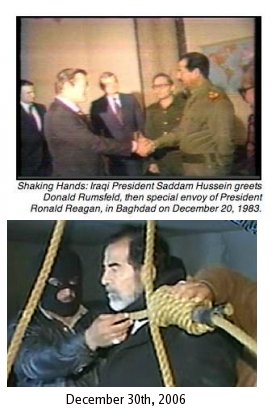 Fri Dec 29 2006
(Updated 01/02/07)
Saddam Hussein Executed
Saddam Hussein (1937-2006): Former US Ally Hung During Eid al-Adha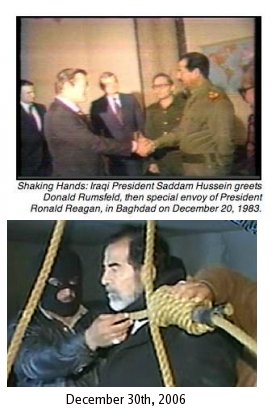 On
December 30th, 2006
, former Iraqi president
Saddam Hussein was executed
by hanging
just hours
after the Americans handed him over to the Iraqi authorities. In video footage of the execution, apparently captured on a mobile phone, the executioners
are heard to taunting Sadam
and chanting "Moqtada, Moqtada, Moqtada" and
"Long live Sadr"
.
Raed Jarrar: The Execution Scene | Tariq Ali: What's Good for Saddam May Be Good for Mubarak or the Saudi Royals | Mafia-Style Justice: Executing Saddam, Protecting the Rackets | Saddam: The questions that will live on | Arab blogs on the Saddam hanging | Saddam's Execution: 'It will be taken as an American decision' | Saddam Executed, Bush Hails | WSWS Report | Patrick Cockburn: From gilded palaces to wretched infamy | Family clues to Iraq's missing oil billions
Many Muslim leaders, including the government of Saudi Arabia, criticised Iraq's Shi'ite leaders for executing former Iraqi leader Saddam Hussein
during the Eid al-Adha religious feast
. Executing him on "Eid day has made him a hero from zero," Pakistan Muslim League President Shujaat Hussain told the Pakistan Tribune. "Saddam was being dragged away like he was the sheep waiting to be slaughtered," Emad Gad, researcher with the Cairo-based Ahram Centre for Strategic Studies, told Agence France-Presse. "The main issue here is that
the execution took place on the morning of the `Eid Al-Adha.
This will stir anger and humiliation in people, whether they supported him or not." Human Rights Watch also
came out against the execution
stating that the execution "following a deeply flawed trial for crimes against humanity marks a significant step away from respect for human rights and the rule of law in Iraq"
Saddam's Execution "Illegal": Ex-Judge | Hanging After Flawed Trial Undermines Rule of Law | No Justice in Hussein's Execution
On
November 5th
, an Iraqi court sentenced Saddam Hussein to death by hanging for the execution of 148 Shiites from the town of Dujail in 1982. The decision was announced just two days before the U.S. mid-term elections.
Iraqi blogger Riverbend wrote
:
Everyone expected this verdict from the very first day of the trial. There was a brief interlude when, with the first judge, it was thought that it might actually be a coherent trial where Iraqis could hear explanations and see what happened. That was soon over with the prosecution's first false witness. Events that followed were so ridiculous; it's difficult to believe them even now. The sound would suddenly disappear when the defense or one of the defendants got up to speak. We would hear the witnesses but no one could see them- hidden behind a curtain, their voices were changed. People who were supposed to have been dead in the Dujail incident were found to be very alive. Judge after judge was brought in because the ones in court were seen as too fair. They didn't instantly condemn the defendants (even if only for the sake of the media). The piece de resistance was the final judge they brought in. His reputation vies only that of Chalabi- a well-known thief and murderer who ran away to Iran to escape not political condemnation, but his father's wrath after he stole from the restaurant his father ran.
A late "October Surprise"? | Democracy Now Report | As Hussein sentenced to death, US pushes to rehabilitate his functionaries | Saddam to Hang; Shiites, Kurds Celebrate Some Sunnis Protest
On
December 26th
, the Iraqi Appeal Court
upheld the verdict against Hussein
and two of his co-accused—Barzan Ibrahim al-Tikriti and Awad Hamed al-Bandar.
A legal farce: Iraqi court confirms Saddam Hussein's death sentence | Ramsey Clark on planned execution of Saddam Hussein, other defendants in Iraq | Bush's support for death penalty opens rift with UK
Some believe the execution of Hussein
risks exacerbating sectarian divisions
, but others feel it is likely to have little impact .
Juan Cole writes
:
Saddam Hussein, condemned to death and with all appeals exhausted, is trying to turn his death into a "sacrifice" for the Iraqi nation. In April 2003 Saddam was universally reviled but the country is now in such a horrible state that some Sunni Arabs do see Saddam as a symbol of the united Iraqi nation. Saddam, however, spoke in his typical racist way of the need to fight the "raiders and the Persians", according to al-Hayat in Arabic (i.e. the Americans and the Shiites). Sadr Movement spokesmen demanded that he be executed on the eve of the Day of Sacrifice (Eid al-Adha)--i.e. this weekend.
Protests condemn Saddam execution | Saddam's fate divides a city torn apart by conflict | Iraq After Saddam: A Nation Soaked in Blood Tears Itself Apart | Ghaith Abdul-Ahad watches the execution with Sunni insurgents | An execution that will do nothing to quell the violence on Iraq's streets | Saddam sends messages to his supporters as he prepares to die | Iraqi prime minister calls for Saddam Hussein to be hanged before year's end
Before the Iraqi invasion of Kuwait in 1990, Saddam Hussein was a US ally against Iran. In the 1980s, the Reagan administration covertly provided
critical battle planning assistance
to Hussein at a time when American intelligence knew that Iraqi commanders would employ chemical weapons in waging the decisive battles of the
Iran-Iraq war
.
The New York Times reported in 2002
:
Though senior officials of the Reagan administration publicly condemned Iraq's employment of mustard gas, sarin, VX and other poisonous agents, the American military officers said President Reagan, Vice President George Bush and senior national security aides never withdrew their support for the highly classified program in which more than 60 officers of the Defense Intelligence Agency were secretly providing detailed information on Iranian deployments, tactical planning for battles, plans for airstrikes and bomb-damage assessments for Iraq.
...
[A] former senior D.I.A. official who was an expert on the Iraqi military said the Reagan administration's treatment of the issue -- publicly condemning Iraq's use of gas while privately acquiescing in its employment on the battlefield -- was an example of the "Realpolitik" of American interests in the war.
The effort on behalf of Iraq "was heavily compartmented," a former D.I.A. official said, using the military jargon for restricting secrets to those who need to know them. "Having gone through the 440 days of the hostage crisis in Iran," he said, "the period when we were the Great Satan, if Iraq had gone down it would have had a catastrophic effect on Kuwait and Saudi Arabia, and the whole region might have gone down. That was the backdrop of the policy." One officer said, "They had gotten better and better" and after a while chemical weapons "were integrated into their fire plan for any large operation, and it became more and more obvious."
National Security Archive: Shaking Hands with Saddam Hussein | Did the US Support The Gassing Of The Kurds? Evidence Suggests US Republicans Did? | Robert Fisk: A dictator created then destroyed by America | Juan Cole: Top Ten Ways the US Enabled Saddam Hussein | Wikipedia: Saddam Hussein | An Expanded Brief History of Iraq | America Helped Make A Monster | If Saddam Guilty, Rumsfeld Guilty | Robert Fisk: What the US President wants us to forget
Related Categories:

Iraq | International | Front Page
We are 100% volunteer and depend on your participation to sustain our efforts!
Get Involved
If you'd like to help with maintaining or developing the website, contact us.