From the Open-Publishing Calendar
From the Open-Publishing Newswire
Indybay Feature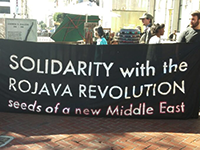 Wed Oct 22 2014
SF Demonstration in Solidarity with Kobane and Rojava Revolution
Rojava Revolution & the Kurdish Resistance in Kobane Fighting Off Brutal Siege by ISIS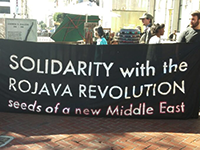 Members of the Kurdish diaspora in the Bay Area joined local anarchists on October 11 for a demonstration in solidarity with the Rojava Revolution and the Kurdish resistance in Kobane fighting off a brutal siege by ISIS. Over 50 people took over Powell and Market in San Francisco with banners and thousands of leaflets throughout the afternoon.
Kurdish fighters part of the YPG and the all women YPJ units have managed to hold their own during a month-long siege despite suffering heavy casualties and fighting with outdated weapons compared with the advanced US-made weapons used by ISIS. They are calling for the border with Turkey to be opened so that they can resupply and re arm to effectively fight off ISIS and defend their revolution. The Rojava Revolution in Northern Syria has created an autonomous multi-ethnic enclave in Northern Syria founded on anti-state, anti-patriarchal and ecological principles. It is now under attack from many sides by ISIS and the fight for the border town of Kobane has become a crucial battle.
The Turkish state has been allowing ISIS to cross it's borders freely and has helped them resupply and rearm for numerous years. Yet it is threatened by the prospects of the Rojava Revolution expanding and is thus preventing the YPG and YPJ from doing the same. Much of Turkey's south east is now in open insurrection against the Turkish state and in support of the Kobane resistance. Anarchists and other radicals have joined this struggle spreading it to the streets of Istanbul and beyond.

Read More |

Kobanê Solidarity Graffiti in West Oakland |

Defend the Kobanê Resistance! announcment
See Also:
Turkey agrees to allow Peshmerga from Iraq into Kobane
|
DAF Anarchists report from Kobane (Oct 9) after 24 days of ISIS attacks
|
Call to Donate Medical Aid to Kobane
|
ISIS using captured Iraqi chemical weapons on Kobani in its desperation to take the town
|
ISIS: Genocidal Jihad Made in the USA; U.S. Out of Syria and Iraq!
|
David Graeber on Rojava Revolution - Spanish Civil War of our age?
|
In the Rubble of US Imperialism: Why the US isn't helping Syrian kurds
|
Turkish anarchists join the fight to save Kobane from ISIS; updates from Kobane
We are 100% volunteer and depend on your participation to sustain our efforts!
Get Involved
If you'd like to help with maintaining or developing the website, contact us.