From the Open-Publishing Calendar
From the Open-Publishing Newswire
Indybay Feature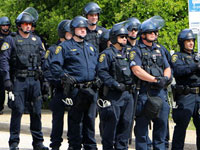 Thu Apr 3 2014
(Updated 04/29/14)
22 Demonstrators in Support of UAW Strike Arrested at UC Santa Cruz
Rally and Protest to End Worker Intimidation at UC Santa Cruz Ends in Arrests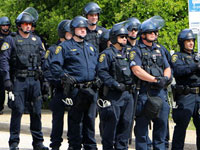 20 graduate and undergraduate students were arrested at UC Santa Cruz on April 2, and two more were arrested on April 3. UAW 2865, the union representing Teaching Assistants throughout the University of California system, called for a peaceful, legal strike in protest of management's unlawful intimidation of student-workers, but were met with more of the same intimidation. Here's what happened at the strike at UC Santa Cruz on Tuesday, April 2, according to UAW 2865 representatives:
"The administration strategically chose to escalate the situation at a peaceful, lawful picket. Riot police were imported from UC Berkeley prior to the demonstrations. The Berkeley police are known for their willingness to physically assault both students and faculty at peaceful demonstrations. Wearing riot helmets and batons, and resting their hands on their weapons, police used conflicting messages to create confusion about what demonstrators could do to avoid arrest. First, police blocked both entrances to the crosswalk; then they said we could be in the crosswalk only when the "walk" sign was on, and then proceed to shut it off. Some officers then said that we couldn't picket on the sidewalk or grass near the west entrance even after people had moved off of the street. The details of where people could be were not clear in any dispersal order. This mixed messaging was clearly part of a tactic to stop a legal, peaceful picket by instilling fear among demonstrators that they might be arrested at any time merely by being in the vicinity of the protest.
"The administration deprived UAW members of their legal right to picket. Shortly after union members and undergraduate allies gathered at the western entrance, they were confronted by riot police. A union leader was specifically targeted after communicating to administrators that the picket was about to begin. He introduced himself to Executive Vice Chancellor Alison Galloway, and informed her that he was going to be exercising his right to picket, but that he would not be standing in front of cars or blocking traffic. Shortly after this encounter, he was tackled to the ground by police and arrested, along with a photographer who was documenting the incident. He had clearly stated that he was not going to block any cars, and he would be walking in the crosswalk. We have video footage of this arrest. You can watch clips of it here. Riot cops then proceeded to arrest 18 more students and union members."
Students are now entangled in the legal system. All of the arrested demonstrators have been released. Most of those arrested have a court date set for May 6 at 8:15am, in SC Superior Court.

Read More and Watch Video | Updates from Wednesday, April 2 |

Interviews at UCSC Graduate Student Workers ULP Strike after Arrests | In Solidarity with UAW and the UCSC 20 | UCSC Faculty Letter to EVC Galloway and Chancellor Blumenthal on April 2 Arrests |

UCSC 20 Becomes the UCSC 22 | UCSA Resolution in Support of UAW Strikers and Student Protest Climate at UC |

Marching on the UCSC Police Station on April 3 | Petition: Janet Napolitano: Drop the Charges Against the UCSC 22 |

Riot Squads Return, Police Shut Down UCSC Campus on Second Day of UAW Strike |

IBEW Wildcat Honors Picket-Line in Solidarity with UAW Strike at UC Berkeley | Class Size and Class Struggle: Organizing Lessons from the UCSC Strike | We Refuse to Accept That Violence Against Us Is Necessary to the Sustenance of Our Education | Why We Are Striking | UCSC Graduate Student Workers Plan to Strike April 2-3
We are 100% volunteer and depend on your participation to sustain our efforts!
Get Involved
If you'd like to help with maintaining or developing the website, contact us.