From the Open-Publishing Calendar
From the Open-Publishing Newswire
Indybay Feature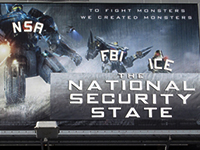 Sat Jul 27 2013
(Updated 07/29/13)
Corrected Billboard "Applauds" NSA Prior to Congressional Vote
Hollywoood Movie Billboard in SF Spoofed to "Honor" U.S. National Security Agency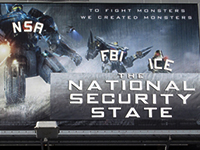 On July 23, the California Department of Corrections (CDC) "apprehended, rehabilitated and discharged" a billboard at Bayshore Boulevard near Sunnydale Avenue in San Francisco. The CDC released the corrected ad one day before a U.S. House of Representatives vote that would have curtailed the agency's surveillance inside the United States, extensive domestic spying programs first brought to light by whistleblower Edward Snowden on June 7, 2013.
The CDC writes:
Following the unauthorized release of information by its former contractor, Edward Snowden, the NSA has faced an unprecedented wave of public scrutiny. On July 24th the U.S. House of Representatives voted on an amendment to a military appropriations bill that would have eliminated funding for the agency's phone data collection. Narrowly defeated by a margin of 205 to 217, the amendment was attached to a $598 billion defense spending bill for 2014. In addition, news organizations have released daily coverage of Snowden's leaked documents, and nineteen civilian groups have filed a lawsuit against the NSA, alleging that the massive collection of phone data violates their right of association. In the midst of this public attention, the CDC initiated its billboard campaign to call for additional support for the NSA.

Read More | CorrectionsDepartment.org
See Also:
America and Germany: Longstanding Espionage Partners
|
Snowden and Latin America Expose Washington's Impotence in a Changing World
|
America's Surveillance Society
|
Snowden in Russia
|
Lawlessness Is Official US Policy
|
Snowden's Asylum Quest
|
Obama Blocks Snowden's Asylum
|

Confronting Uncle Sam at Rally for Rights
|

Statement from Edward Snowden July 12, 2013
|

Movie: War on Whistleblowers: Free Press and the National Security State
|
Venezuela Grants Snowden Amnesty
|

Whistleblowers Speak Out
|
London's Guardian: Out in Front Exposing Lawless NSA Spying
|
Restore the Fourth Campaign Organizes Protests Against Unconstitutional Surveillance
|
Hands Off Snowden Campaign
|
Quelle Surprise: NSA Spies on Europe
|
Whistleblower Russell Tice Tells More
|
BIG BROTHER?
|
America: Government by Terror, Torture and Tyranny
|
More Evidence of Lawless US Spying
|
Snowden: Shooting the Messenger
|
Challenging US Lawlessness
|
Snowden on the Move
|
America: Police State Ruthlessness Writ Large
|

We DO NOT Consent! No Government Spying on Whole Populations
|
Where did Edward Snowden disappear?
|
Washington v. Edward Snowden Update
|
Edward Snowden Charged Under the Espionage Act
|
Obama: The Worst of Nixon/Bush II Writ Large
|
Big Brother Writ Large in America
|
Lawless NSA Global Spying
|
NSA Chief Lies to Congress
|

Truth has Consequences
|

Edward Snowden Support Rally; Jail Diane Feinstein
|
America's National Security State
|

CODEPINK NSA Team Surveils DiFi's House
|
Whistleblowing: Exemplary Patriotism
|
Police State America in Good Hands with James Comey
|
Mass Surveillance in America
|
Unconstitutional US Data-Mining
|
Obama Wants Whistleblowers Silenced
Related Categories:

San Francisco | U.S. | Anti-War | Arts + Action | Police State & Prisons | Front Page
We are 100% volunteer and depend on your participation to sustain our efforts!
Get Involved
If you'd like to help with maintaining or developing the website, contact us.