From the Open-Publishing Calendar
From the Open-Publishing Newswire
Indybay Feature
Related Categories:

International | U.S. | Police State & Prisons
Where did Edward Snowden disappear?
In this photo shot by Olivia Harris for Reuters, we see Harrison engaging with reporters, early this morning at Moscow's Sheremetyevo International Airport. Interfax reports Snowden and Harrison left together. IndyRadio asks: "Was he ever there?'. 12 hours ago, this is what we knew, by way of the UK Guardian and Wikileaks: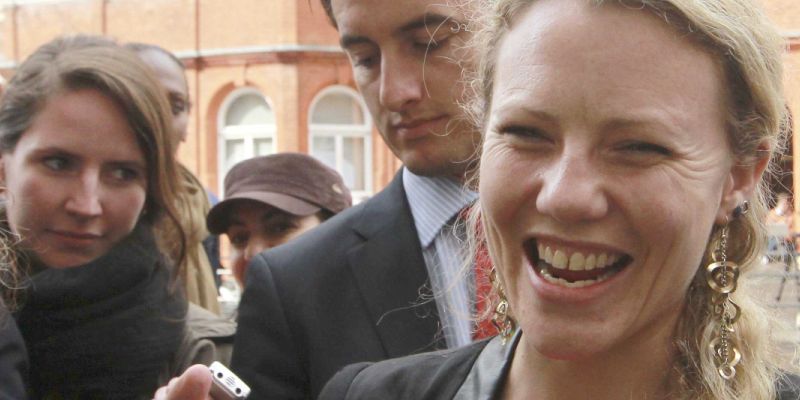 (Update 6-24-2013) Edward Snowden's name never appeared on the roster of the plane that left Hong Kong and wasn't seen at the Moscow airport, but his name did appear on the roster of a plane departing for Cuba. We do know he wasn't on that plane. NYT provides a flurry of details about why he left Hong Kong, and it's worth reading. We are told that Sarah Harrison assisted in his departure.
"Sarah Harrison has courageously assisted Mr Snowden with his lawful departure from Hong Kong and is accompanying Mr. Snowden in his passage to safety.", according to a Wikileaks staement earlier today. Harrison is a UK citizen, journalist, and legal researcher who is currently working with the WikiLeaks Legal Defense team led by former Spanish Judge Baltasar Garzón.
At 2:19 PM BST, WikiLeaks announced that Snowden had landed in Moscow.
WikiLeaks released a statement on Edward Snowden at 13:00 BST.
Mr Edward Snowden, the American whistleblower who exposed evidence of a global surveillance regime conducted by US and UK intelligence agencies, has left Hong Kong legally. He is bound for a democratic nation via a safe route for the purposes of asylum, and is being escorted by diplomats and legal advisors from WikiLeaks.

Mr Snowden requested that WikiLeaks use its legal expertise and experience to secure his safety. Once Mr Snowden arrives at his final destination his request will be formally processed.

Former Spanish Judge Mr Baltasar Garzón, legal director of Wikileaks and lawyer for Julian Assange has made the following statement:

"The WikiLeaks legal team and I are interested in preserving Mr Snowden's rights and protecting him as a person. What is being done to Mr Snowden and to Mr Julian Assange - for making or facilitating disclosures in the public interest - is an assault against the people".
By this time, reporters had found the name "Harrison" on the Aeroflot passenger manifest and speculated that Snowden was being escorted to Moscow by Sarah Harrison.
WikiLeaks later confirmed this.
The latest we have now is from WL Central:
"Edward Snowden was expected to fly to Havana today at 14:05 Moscow time (6:05 EST), together with WikiLeaks legal advisors. But Snowden's seat 17A was empty at takeoff, and no one seems to know where he is. Julian Assange has however stated that Snowden is safe and in good spirits. Assange says he knows where Snowden is but will not say." http://wlcentral.org/node/2830
Join us at http://identi.ca/indyradio | Follow @iRadioTube on Twitter https://twitter.com/iRadioTube
and bring the ruckus to Facebook: http://facebook.com/IndyRadio
The future of radio comes not from the Tower of Corporate Media but through WiFi and cellphone it now belongs to us. Circa 2013 we have a window of opportunity since web radio is received on desktops, mobiles and phones without added charges, and there are more than 50,000 free independent stations you can access with simple software. You don't need to download files, or worry about how much storage your device has available.
The newest playlists from Indyradio appear at  http://indyradio.nu:2013
We are 100% volunteer and depend on your participation to sustain our efforts!
Get Involved
If you'd like to help with maintaining or developing the website, contact us.