From the Open-Publishing Calendar
From the Open-Publishing Newswire
Indybay Feature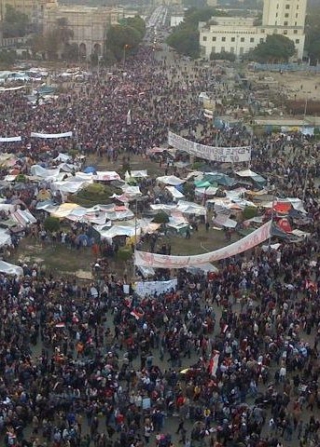 Thu Feb 3 2011
(Updated 02/23/11)
Protests in Egypt Continue as Mubarak Clings to Power
Protests in Egypt Continue Even as Mubarak Thugs Start to Kill Protesters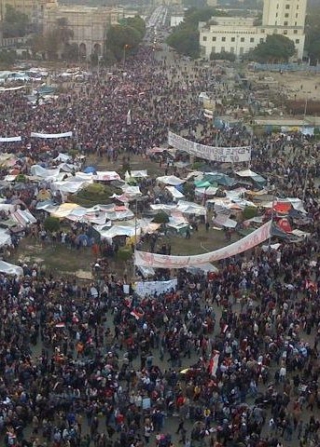 UPDATE:
On February 11th, Mubarak resigned and passed control of the country to an Egyptian military council.
A new mass protest in Egypt took place Friday, February 4th as plain clothes police and other Mubarak supporters continued to attack protesters in Cairo's Tahrir Square. In the early morning hours of February 3rd, supporters of the regime opened fire on the protesters in the square, killing at least eleven.
The US and EU appear to be negotiating a transfer of power from Mubarak to
Omar Suleiman
, the former director of military intelligence. Suleiman is seen as a very close and trusted ally of President Mubarak, sharing many of his views on key issues such as Iran, Egyptian relations with Israel and the United States, and treatment of the Muslim Brotherhood. Suleiman has been implicated as directly involved in the CIA "rendition" program. Journalist Stephen Grey in his work, "Ghost Plane", states that after taking over as intelligence director, Suleiman oversaw an agreement with the US in 1995 that allowed for suspected militants to be secretly transferred to Egypt for questioning.
An international day of protest in solidarity with the Egyptian people was held February 5th. In San Francisco, thousands of protesters, including many Egyptians, gathered and marched in solidarity with the mass movement in Egypt.

Video |

Photos: 1 | 2 | 3 | 4 | 5 | 6 | 7 | 8 | 9 | 10 | 11 | 12 | 13 | Event details
Demands of protesters in Tahrir Square are the following:
1) Bringing down the President
2) Dissolution of both houses of parliament
3) Immediate end to state of emergency
4) Formation of a transitional government of national unity
5) Elected parliament to undertake constitutional amendments to hold presidential elections
6) Immediate trials of those responsible for the murder of the revolution's martyrs
7) Expedient trials of the corrupt and thieves of the country's wealth
Protest Coverage:
Mass protests in city of Alexandria
|
"I was paid 5,000 pounds to wreak havoc in the Cairo protests"
|
Cairo's biggest protest yet demands Mubarak's immediate departure
|
Heroic resistance in Cairo to state-orchestrated repression
|
Egyptians turn out for 'final push'
|
Robert Fisk: 'Mubarak will go tomorrow,' they cried as rocks and firebombs flew
|
Nora Barrows-Friedman: protesters in Cairo's Tahrir Square push back Mubarak thugs
|
Mubarak's third force terror tactic
|
Morning Phone Call to Al Jazeera from Mona Seif in Tahir Square
|
Pro-Mubarak supporters are recognizably police
|
Vodafone: Egypt forced us to send text messages
|
USA empire supports "mummy" Mubarak in Egypt!
|
Egypt army wants protests ended
|
Feb. 4 declared the 'Friday of departure'
International Response:
Obama's cold-blooded defense of Egyptian regime
|
The danger to Egypt's revolution comes from Washington
|
U.S.: Mubarak must stay in power to steer reform in Egypt
|
US resists calls to cut military aid
|
Obama's crocodile tears over Egypt's violence
|
Berlusconi: Mubarak is a wise man
Impact On Region:
Tens of thousands rally in Yemeni capital
|
Libya, Algeria Extend Soccer Ban to Thwart Protests
|
Calls for weekend protests in Syria
Background:

Stephen Zunes on Nonviolent Revolutions in Tunisia and Egypt
|
Oppose US-backed "transition" in Egypt
|
Mubarak family fortune could reach $70bn, say experts
|
British oil companies and banks in limbo over Egypt protests
|
WikiLeaks: Cables reveal connivance of US government with Mubarak dictatorship


Democracy Now:
Feb 7th:
Protests Demanding Mubarak's Resignation Grow Stronger
|
Obama Egypt Envoy Frank Wisner Says Mubarak Should Stay
|
Systematic Targeting of Journalists in Egypt
Feb 5th:
2 Hour Special
Feb 4th:
Day of Departure
|
Report on the Battle for Tahrir
|
Committee to Protect Journalists
Feb 3rd:
California Professor Beaten by Pro-Mubarak Forces
|
A Battle for Democracy
|
The True Face of Hosni Mubarak
|
Eyewitnesses to a Massacre:
|
Journalists and Human Rights Activists Arrested and Beaten
|
Robert Fisk: Obama Administration Has Been Gutless and Cowardly
Feb 2nd:
The True Face of the Mubarak Regime
|
Corporations Choose Despots Over Democracy
|
Noam Chomsky
|
I Either Leave Here Free or Dead
|
Eyewitness Account of Attack on Peaceful Egyptian Protesters
|
Mubarak Pledges To Finish Term, Egyptian Protesters Stay in Streets
|
Noam Chomsky Part 1
|
Voices of the Egyptian Revolution
|
Bloodshed in Egypt
Human Rights Watch Reports:
2011:
Foreign Rights Activists Freed; Egyptian Activists Still Held
|
Release Detained Activists, Journalists
|
Impunity for Torture Fuels Days of Rage
|
Nationwide Internet Blackout Endangers Rights
|
Stop Attacks on Peaceful Protesters
|
Impunity for Torture in Egypt
|
World Report 2011: Egypt
2010:
Brutal Treatment of Peaceful Protesters
|
Free Blogger in Military Court Trial
2009:
The Mubarak Test
|
Egypt continued its relentless attacks on political dissent
2008:
Investigate Beating of 'Facebook' Activist
|
Military Court Convicts Opposition Leaders
2007:
US: Halt Deportation to Torture in Egypt
|
Government Detains Al-Jazeera Journalist
|
Release Journalist Who Criticized Torture
|
Investigate Torture, Rape of Activist Blogger
|
Don't Enshrine Emergency Rule in Constitution
2006:
Hold Police Accountable for Torture
|
Hundreds More Protesters Arrested
|
Journalists Still Risk Jail Under Press Law
|
Jailing Journalists Strikes at Press Freedom
2005:
Mass Arrests and Torture in Sinai
2004:
Egypt's Torture Epidemic
2003:
Torture in State Security Headquarters
2002:
Committee Against Torture Condemns Egypt
2001:
Politically Motivated Imprisonment
2000:
Harassment of Academics
|
Crackdown on NGOs Condemned
1995:
Hostage-Taking and Intimidation By Security Forces
1993:
Human Rights Abuses Mount in 1993
1992:
Arrest and Detention Practices and Prison Conditions
1991:
Torture in Egypt
|
Egyptian Authorities Clamp Down on Dissent
Live Updates from the Al Jazeera English:
Feb 8th
|
Feb 7th
|
Feb 6th
|
Feb 5th
|
Feb 4th
|
Feb 3rd
|
Feb 2nd
Live Updates from the UK Guardian:
Feb 8th
|
Feb 7th
|
Feb 6th
|
Feb 5th
|
Feb 4th
|
Feb 3rd
|
Feb 2nd
List of those killed in protests | 3arabawy |

Photos From Cairo | "We are all Khaled Said" Facebook page | #Jan25 Twitter posts | The Angry Arab News Service |

Jan 25 Voices |

Al Jazeera English: Live Stream |

Poster in solidarity with Egyptian revolution
Earlier Indybay coverage of the protests
We are 100% volunteer and depend on your participation to sustain our efforts!
Get Involved
If you'd like to help with maintaining or developing the website, contact us.