From the Open-Publishing Calendar
From the Open-Publishing Newswire
Indybay Feature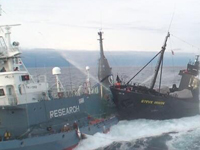 Mon Feb 16 2009
Sea Shepherd Returns From the Whale Wars
After Months of Sparring, Anti-Whalers Withdraw to Prepare for Future Battles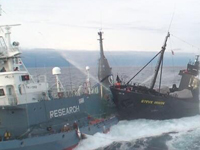 Since December, Sea Shepherd Conservation Society has been pursuing and disrupting whaling operations by a Japanese fleet that illegally hunts whales in the waters around Australia and the Antarctic seas under the guise of "research." Confrontations included the Sea Sheperd ship, the Steve Irwin, lobbing rotten butter onto the decks of the whaling ships as well as directly ramming whaling ships on the open seas at times. The whalers in turn have used sonic weapons to retaliate against the crew of the Steve Irwin. After three months of operations attempting to prevent the illegal whaling, the Sea Sheperd crew are returning to better prepare for future battles with the whalers.
Captain Paul Watson summarizes recent events: "I have said always said that we would do everything we can short of hurting people to end illegal whaling in the Antarctic Whale Sanctuary. We have done everything we could with the resources available to us this year. We have shut down their illegal operations for over a month in total. We have cost them money and we have saved the lives of a good many whales. And although we are willing to take the risks required, even to our own lives, I am not prepared to do to the Japanese whalers what they do to the whales and the escalating violence by the whalers will result in some serious injuries and possibly fatalities if this confrontation continues to escalate."
Read More | Sea Shepherd Conservation Society | Indymedia.org coverage

Video:
Ramming the Japanese whaling ship
|
Sea Shepherd collides with whaling harpoon ship
|
Whalers use acoustic weapon on Sea Shepherd in High Seas Confrontations

Audio:
Two Sea Shepherd activists injured by whaler violence
|
Sea Shepherds sail out to confront whalers
Reports:
Sea Shepherd Rams Harpoon ship while under Sonic Attack
|
The Battle for the Whales Turns Ugly in the Ross Sea
|
Taking on Goliath: Whaling and the Contradictions of International Conservation Law
|
Sea Shepherd: Whalers using Weapons in violation of Antarctic Treaty
|
Whalers refuse Sea Shepherd help in search for missing crew member
|
Whales to the slaughter as Sea Shepherd forced to Refuel
|
In the whale wars, the good guys wear black and fly the skull and crossbones
|
Ships Collide: Whalers and Sea Shepherd clash in Australian Antarctic waters
|
Sea Shepherd Clashes With Whaling Fleet in Australian Waters
|
Christmas Message from the Captain of the Sea Shepherd ship Steve Irwin
|
Heavy Ice Conditions Hinder Sea Shepherd Pursuit of Whalers
|
Sea Shepherd in pursuit of Whalers in Southern Ocean Whale Sanctuary
|
Sea Shepherd Has the Japanese Whaling Fleet on the Run
|
Sea Shepherd Will Oppose Japanese Whalers Alone - Why no Greenpeace?
Related Categories:

International | Animal Liberation | Environment & Forest Defense | Front Page
We are 100% volunteer and depend on your participation to sustain our efforts!
Get Involved
If you'd like to help with maintaining or developing the website, contact us.