From the Open-Publishing Calendar
From the Open-Publishing Newswire
Indybay Feature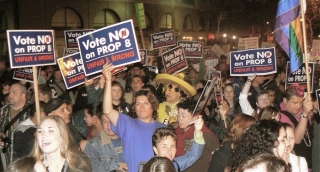 Thu Nov 6 2008
(Updated 11/12/08)
Protests Continue Against Proposition 8
Fight for Same-Sex Marriage Is Not Over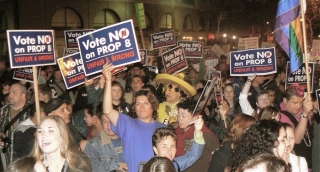 On November 4th, California voters passed Proposition 8 with 52.3% in favor and 47.7% opposed (
see map of results
). The proposition amended the state constitution to specify that only marriage between a man and a woman is valid or recognized in California. Voters also passed gay marriage bans in
Arizona
and
Florida
.
On November 5th, over 2,000 people gathered in a candle light vigil at San Francisco's City Hall to protest Prop 8's passage (
photos from SFist
).
On November 6th, thousands took to the streets in Los Angeles. Protesters marched to the Mormon temple on Santa Monica Boulevard in Westwood to protest its support for Prop 8.
LA Indymedia Coverage:

Photos: 1 | 2 | 3 |

Audio |

Video | SFBG Coverage
On Friday November 7th in San Francisco, thousands gathered at 5:30pm in UN Plaza for a No On 8 rally. Crowds filled Market St. for blocks as tens of thousands moved up into the Castro and then down 18th to end in Dolores Park.

Photos: 1 | 2 | 3 |

Video | Announcement | Protest Prop 8 on Market Street this Friday | Protest 8
There was also a
large protest in Salt Lake City
on Friday to protest to LDS church's role in helping Prop 8 to pass.
On Saturday November 8th, thousands took to the streets of San Diego to protest Prop 8.

Photos
In Los Angeles, tens of thousands
again took to the street
. The protest started in Silver Lake.

Photos: 1 | 2 | 3 | 4 | 5 | 6 | 7 |

Video
There were also protests in Sacramento and Modesto (
corporate coverage
).
On Sunday November 9th, protesters took to the streets of San Jose.

Photos
There was also a protest in Oakland. More than 1000 people demonstrated at the Mormon Temple in the Oakland Hills. Police closed freeway exits and the streets near the temple as angry protesters lined the sidewalks outside the temple.

Photos | Annoucement
On Monday November 10th, there was a protest in Palo Alto at the corner of Embarcadero and El Camino Real.

Photos: 1 | 2 | 3 | 4
While Proposition 8 passed, it passed by a much smaller margin than Proposition 22 did in 2000. Proposition 22, the "Knight initiative" , was adopted by a vote of 61.4% to 38%.
County by County Comparison Between Prop 8 and Prop 22 | Wikipedia: Same-sex marriage in California
Lambda Legal Defense
, The American Civil Liberties Union (
ACLU
) and the National Center for Lesbian Rights (
NCLR
) have urged the California Supreme Court to invalidate Proposition 8 if it passes. The groups argue that Prop. 8 is invalid because it improperly attempts to undo the constitution's core commitment to equality and deprives the courts of their essential role of protecting the rights of minorities. According to the California Constitution, such a radical change in the way the courts and state government work cannot be decided by a simple ballot measure. The legal groups filed the writ petition on behalf of
Equality California
and six same-sex couples.
The California Constitution
sets out two ways to alter the document that sets the most basic rules about how state government works. Through the initiative process, voters can make relatively small changes to the constitution. But any measure that would change the underlying principles of the constitution must first be approved by the legislature before being submitted to the voters.
What Next: Lambda & ACLU File Lawsuit to Toss Prop 8 |

DN: Gearing for Challenge to California Gay Marriage Ban | Prop. 8 Opinion: Let's Just Ban Marriage Altogether | The Right Wing's Booby Prize | Obama Signals Hope for Same-Sex Binational Couples

Critique Of Movement: Resisting the Racist Blame Game Post Prop 8 | Pointing fingers at Prop 2 will not help us repeal Prop 8 | Newsom Biggest Loser, a Dire Need for Reform and the Chronicle's Cluelessness

What The Results Mean:

DN: California's Prop 8 Approval Likely | Setback for Same-Sex Binational Couples | Gays in the Age of Obama - It's Their Party and They'll Cry if They Want to | An open letter to those conflicted

No On Prop 8 | Protect Marriage Equality Blog | Equality California | Lambda Legal Defense

Indybay's Pre-Election Coverage Of Proposition 8
Related Categories:

California | San Francisco | Government & Elections | LGBTI / Queer | Front Page
We are 100% volunteer and depend on your participation to sustain our efforts!
Get Involved
If you'd like to help with maintaining or developing the website, contact us.