From the Open-Publishing Calendar
From the Open-Publishing Newswire
Indybay Feature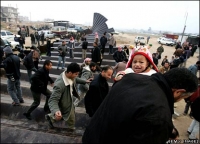 Tue Jan 22 2008
(Updated 01/28/08)
Emergency Protests Against the Strangulation of Gaza
Gaza: Israel Blockade Leads to Tearing Down of Egyptian Border Wall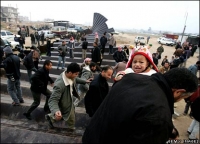 The Israeli government's tightening of a blockade against the Gaza Strip has deepened an ongoing humanitarian catastrophe, plunging its 1.5 million people into cold and darkness and threatening to unleash both mass hunger and a serious health crisis. The Israeli cabinet voted last week to seal all border crossings into Gaza, cutting off food, medicine and fuel for the population and turning the entire territory into a vast prison. On Sunday January 20th, the cutoff of fuel forced the shutdown of the Gaza Strip's only power plant.
US stymies Security Council action on Gaza | US-backed Israeli siege creates humanitarian disaster in Gaza | Israeli Victory over Asthmatics, Newborns in Gaza |

Democracy Now: As Gaza Plunges Into Darkness, Israeli and Palestinian Fighters-Turned Peace Activists Speak Out | Gaza: No rights, little mercy | Siniora denounces Israel's blockade of Gaza | Israeli Atrocity on Gaza Civilians | Rights org: Gaza situation potentially disastrous | Israeli closure 'hits Gaza power' | Never against! European collusion in Israel's slow genocide | Israeli-Turkish relations tense
On January 22nd, dozens of Palestinian protesters
stormed the Rafah border crossing with Egypt
, demanding it be opened to ease the blockade. Egyptian police opened fire in the air and used batons and water canons, as protesters complained that Gaza was under siege from both Israel and neighbouring Arabs. On January 23rd, masked militants destroyed around two-thirds of the metal wall separating the Gaza Strip from Egypt.
Tens of thousands of Palestinians flooded across the border
to buy food and supplies. Egypt's dictator Hosni Mubarak says he
ordered his troops to allow Palestinians to cross
into Egypt because they were starving. Hamas' leadership has said it will be willing to work to resolve the chaotic situation on the border only if its is
placed under exclusive Palestinian and Egyptian control
. On January 25, Egyptian border guards with riot shields formed human chains along the Egypt-Gaza border, but were unable to stop hundreds of Palestinians from rushing into Egypt after a bulldozer
wrecked another section of fence
along the frontier.
Breaking out | Gaza scrambles for supplies as border forced open | Egypt rejects idea of Israel waiving responsibility for Gaza | The People in Gaza Challenge Sham Peace Process |

Democracy Now: Tens of Thousands of Palestinians Seeking Basic Supplies Flood Egypt For Second Day | Mr. Olmert, Tear Down this Wall! | In face of Israeli repression, tens of thousands of Palestinians force their way into Egypt |

Palestinians pour into Egypt after Rafah border wall destroyed
Emergency protests are being held
around the world
against the strangulation of Gaza, demanding an immediate end to the Israeli blockade and siege of Gaza. A San Francisco protest took place on
Friday January 25th
at the Israeli Consulate, 456 Montgomery Street.

Photos | US Indymedia Coverage | Event Announcement | ANSWER Announcement | JVP Announcement | Demand action to end the Gaza blockade! | Break the Silence on Gaza! | Updated listing of demonstrations to break the silence on Gaza! | Thousands protest in Amman against Gaza blockade | HAMAS-Iraq Launches 'Avenging Gaza' Campaign Against US Forces in Iraq
Related Categories:

Palestine | San Francisco | Anti-War | Front Page
We are 100% volunteer and depend on your participation to sustain our efforts!
Get Involved
If you'd like to help with maintaining or developing the website, contact us.