From the Open-Publishing Calendar
From the Open-Publishing Newswire
Indybay Feature
Related Categories:

Palestine | International
Palestinians pour into Egypt after Rafah border wall destroyed
Gaza – Ma'an – Tens of thousands of Palestinians have been crossing into Egypt on Wendesday after Palestinian fighters destroyed a portion of the border wall between Egypt and the Gaza Strip using explosives.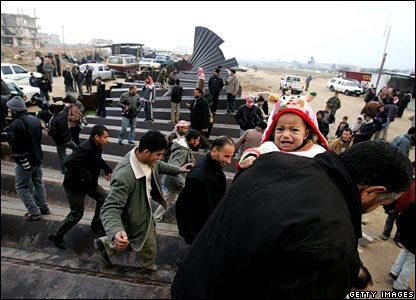 Egyptian security forces stood by and did not confront the Palestinians.
Ma'an's reporter said that the Gazans began stocking up on supplies from Egyptian stores in the town of Al-Arish. Some bought cement at 27 Egyptian pounds per sack. A sack of the same size costs 150 NIS, or more than five times the price in Egypt. At times, even the cement needed to make tombs for the dead has been scarce in the Gaza Strip.
Gazan merchants sent trucks to import medicine and other goods.
Gazans also bought clothes which have become scarce in Gaza's markets after eight months of Israeli-imposed siege.
A sudden influx of tobacco from Egypt resulted in a drop in the price of a pack of cigarettes. From 20 NIS down to 10 NIS.
Palestinians stranded on the Egyptian side of the border for weeks or months streamed back into the Gaza Strip, having found a sudden solution to their plight.
On Tuesday, dozens were injured when Egyptian riot police blocked a surging crowd of Palestinian women from rushing through the Rafah border crossing into Egypt.
Food, medicine, fuel, and other basic necessities had grown scare in the Gaza Strip after months of sanctions and a total blockade that began on Friday.
- Related Stories:
Gazans flood through Egypt Borders - BBC News
[ news.bbc.co.uk/2/hi/middle_east/7204029.stm ]
Palestinians blow up border wall, flood into Egypt - Reuters International
[
http://www.reuters.com/article/worldNews/idUSL238927720080123
]
Palestinians flood into Egypt after Gaza wall blasts - Agence France-Presse
[
http://www.afp.com/english/news/stories/080123095229.kzp3p6of.html
]
Gazans flood into Egypt - Aljazeera.net - English
[ english.aljazeera.net/NR/exeres/2CE3A5EC-9904-4A84-B0E1-2588EBD7429F.htm ]
Tens of thousands of Palestinians have poured into Egypt from Gaza, after militants blew holes in the border wall. Egypt had been under pressure to let Palestinians cross since Israel sealed Gaza's crossing points last week. (BBC)
Some reports say two-thirds of the border wall were destroyed following explosions during the night. (BBC)
They walked unhindered over the toppled metal plates that made up the wall. (BBC)
We are 100% volunteer and depend on your participation to sustain our efforts!
Get Involved
If you'd like to help with maintaining or developing the website, contact us.