From the Open-Publishing Calendar
From the Open-Publishing Newswire
Indybay Feature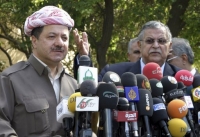 Mon Dec 24 2007
(Updated 12/29/07)
Turkey Attacks Iraqi Kurds as US Arms Sunni Militias
Turkish Attacks on Kurds and US Support for Sunni Separatists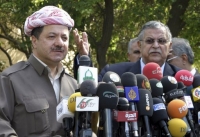 On December 23rd, Turkey bombed northern Iraq for the second time in a week, in an attack on suspected bases of the Kurdish Workers Party (PKK) guerrilla group. The first cross-border attack, the largest since 2003, took place in the early hours of Sunday December 16th. Up to 50 fighter jets bombed targets up to 100 kilometres inside Iraq. The army followed up the air strikes with a series of artillery barrages on border villages. Massoud Barzani , the leader of Iraq's northern Kurdish region, condemned the Turkish air strikes, saying innocent civilians were killed. The Turkish ambassador to the United States, Nabi Sensoy, announced on December 19th that the US military provided real-time intelligence to Turkey and was "very helpful" in allowing Turkey to launch the attacks. Ann Scott Tyson and Robin Wright of the Washington Post have
confirmed from Washington sources
that the US provided to the Turkish government intelligence on the PKK in Iraq.
Turkish Ambassador: US was Helpful | US backs Turkish military attacks on northern Iraq | Iraq Kurds warn Turkey over raids | Turkey 'in new Iraq air strikes' | Turkey Bombs again | Turkish aircraft 'bomb PKK bases' | US Provided Real Time Intelligence for Turkish Strikes on Iraq | Was Rice's trip to Iraqi Kurdistan Deliberately Sabotaged? | Turkey planes bomb north Iraq | Turkey Bombs N. Iraq | Kurdish Press Freedoms Curtailed | Iraq's Kurdish Jews Cautiously Return to Homeland
Past Indybay Coverage Of Iraqi Kurdistan: Tensions Rise Between Iraqi Kurds and Turkey | Kurds Call For Independence From Iraq
The United Nations has called for immediate action
to assist about two million Iraqi children affected by poor nutrition, disease and disrupted education. UNICEF, the UN's childrens' fund, said young Iraqis were getting caught up in violence, with hundreds killed or injured. An average of 25,000 children a month have fled violence or intimidation this year, with their families seeking shelter across Iraq. The widely reported drop in violence coinciding with the US "surge" has been to some extent a result of the US arming of groups openly hostile to both the Iraqi central government and the US occupation.
The World Socialist Website reports
:
For all the optimism in Washington about the latest figures, a more considered analysis reveals that the "surge", far from ending the quagmire for US imperialism in Iraq, has qualitatively deepened the crisis. The Bush administration has failed to achieve its stated aim of fashioning a pro-US Iraqi government that is accepted as legitimate by the majority of the Iraqi population. ... [T]he main reason for the decline in intra-Iraqi violence is the completion of this sectarian cleansing, not the deployment of thousands more US troops.

The US military has made no attempt to prevent the ethnic cleansing take place. Instead, it has assisted the segregation by throwing up 12-foot concrete walls around Sunni suburbs of Baghdad.... In Baghdad's densely populated Shiite working class slum of Sadr City, arrangements have been made with representatives of Moqtada al-Sadr's Mahdi Army militia, which is blamed for much of the violence against Sunnis... In the walled-off Sunni enclaves, the US military has gone further and actually recruited Sunni insurgents and militias into "local citizens' groups". Their members are paid $300 per month for not attacking US troops, while their leaders are allowed to preside like modern-day feudal vassals... The US payment of militias is widespread across the so-called Sunni Triangle in central Iraq. An estimated 192 separate armed groups with over 77,000 fighters have been formed by Sunni tribes and "local citizens' groups" over the past year.
The Iraqi government has become aware of the danger of the US backed militias and is now demanding that they be disbanded. Muqtada al-Sadr's recent call for a halt in fighting by his followers could also be temporary; Sadr's immediate aim appears to be one of gaining more political power in regional elections while training in Najaf to achieve greater religious legitimacy, but it is unclear if he can retain a hold over his followers if he fails to respond to attacks by the US military and other groups.
What's Really Happened During the Surge? | What has the US "surge" in Iraq accomplished? | Al-Hakim Seeks Constraints on Awakening Councils | Iraq vows to disband Sunni groups | Iraq resistance still in operation | After four years and 174 dead, Britain's lead role in Basra is over | Muqtada al-Sadr Regroups | Moqtada Al-Sadr Pursues Education for Ayatollah Status | Muqtada Hits the Books | 'Westernised' women being killed in Basra
Related Categories:

Iraq | International | Front Page
We are 100% volunteer and depend on your participation to sustain our efforts!
Get Involved
If you'd like to help with maintaining or developing the website, contact us.