From the Open-Publishing Calendar
From the Open-Publishing Newswire
Indybay Feature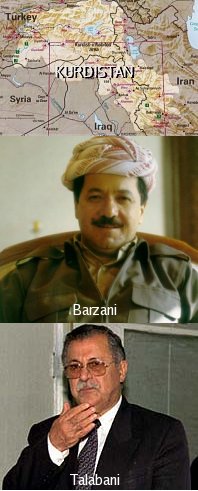 Wed Feb 9 2005
Kurds Call For Independence From Iraq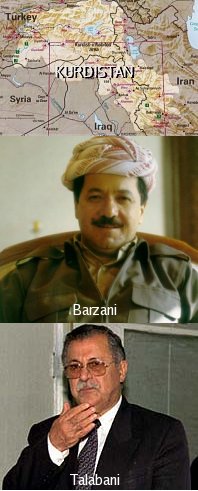 2/18/2005:
Accusations of vote-rigging are being traded between Kurdish parties
. When the PUK did better than expected, some officials began to question the wisdom of a deal that secured Talabani's nomination as candidate for the largely ceremonial post of Iraqi president. The differences between Talabani and Barzani start from their demeanor. During interviews with foreign journalists Barzani wears traditional Kurdish clothes and speaks only in Kurdish; Talabani wears a suit and speaks in English. But the differences extend to their views on the Kurdish future in Iraq. While Barzani has responded to the Kurds' strong showing in the elections with warnings that an independent Kurdistan is inevitable, acknowledging the groundswell of Kurdish popular support for secession, Talabani takes a different line. "I don't see any possibility for a Kurdish independent state," he has said.
2/5/2004:
During the January 30th 2005 Iraqi elections, the Kurdistan Referendum Movement conducted an unofficial referendum in Kurdish areas of Northern Iraq asking voters to choose if they wanted to stay part of Iraq or would prefer an independent Kurdistan.
The results of the referendum
(released on February 5th) showed 1,973,412 people voting for independence and only 19,650 voting for Kurdistan remaining part of Iraq. Kurdistan Democratic Party (KDP) leader Massoud Barzani
has stated
that it is the Kurdish people's "natural right to have a state" and "when the right time comes it will become a reality."
Turkey is adament in preventing a Kurdish state from seperating from Iraq. Much of the Turkish concern is over Kurdish seperatism spreading to the large Kurdish population in Southern Turkey. There is also concern over attacks on
Turkmen
in Kurdish areas such as Kirkuk which many Turkish nationalists "
still regard it as historically part of Turkey
" In recent years Kirkuk was not primarilly Kurdish but since the US invasion Kurdish militias have
attempted to kick Turkmen and Arabs out of the city
to create facts on the ground making it more clearly
part of a future Kurdish state
(or autonomous region). By making Kirkuk a clearly Kurdish city, independence for Kurdistan would becoome much easier since Kirkuk sits next to some of
Iraq's largest oil fields
. Turkish Foreign Minister Abdullah Gul
has said
"Turkey could not stand passively by if Kurds took control of Kirkuk" and so far the US has publicly stated that it will also not allow a Kurdish state.
Kurds and finding the way | Welcoming Separatism Cautiously | As Iraqis celebrate, the Kurds hesitate | Kurdish party says self-rule inevitable | Kirkuk, Turkey and Sunni Arabs | The conundrum of Kirkuk | Iraqi Turkmen Document Details Kurdish Election Rigging in Iraq
The Kurds
are an
Iranian people
who have for over a century been campaigning for the right to their own state. Many Kurds died at Turkish hands between 1915 and the end of World War I, but despite the trend to self-determination and the championing in the
Treaty of Sèvres
of Kurdish autonomy in the aftermath of World War I, Turkish resurgence under Kemal Atatürk prevented the achievement of Kurdish national independence. Turkey suppressed Kurdish revolts in 1925, 1930, and 1937-1938. When Ba'athist administrators thwarted Kurdish nationalist ambitions in Iraq, war broke out in the 1960s. In 1970 the Kurds rejected limited teritorial self-rule within Iraq, demanding larger areas including the oil-rich Kirkuk region. In 1984 the Leninist
Kurdistan Workers Party
(PKK) launched attacks on Turkish targets demanding a seperate Kurdish state; fighting between the PKK and Turkish government resulted in over 30,000 deaths and continued for well over a decade. In 1999, the Turkish government, with help from the
US
and
Israel
,
captured Abdullah Öcalan
, the leader of the PKK, and there has not been much fighting sense.
For various reasons, including the siding of some Kurds with Iranian forces during the
Iran-Iraq War
, the Saddam Hussein regime in Iraq became opposed to the Kurds and an effective civil war broke out in the 1980s. In 1988 Iraq droped bombs containing nerve gas on the Kurdish village of
Birijinni
and
Halabja
killing tens of thousands. Despite Iraqi war crimes Reagan
continued to support Iraq
in its war with Iran. Following the first Gulf War, Kurdish regions had de-facto independence, with fully functioning civil administrations, and were protected by the US-enforced Iraqi no-fly zone which stopped Iraqi air attacks. During the period of self-governance there were armed clashes between
Massoud Barzani
's
Kurdistan Democratic Party
(KDP) and
Jalal Talabani
's
Patriotic Union of Kurdistan
(PUK), each claiming the title of Kurdistan's government. Following the US invasion2003, fighting stopped between the KDP and PUK but the population is still divided.
A Brief History Of Iraqi Kurdistan | Freedom-For-Ocalan.com | BBC: The Ocalan file | Kurdish Parties Accuse Each Other Of Election Fraud | Kurdistan Observer | Kurd Media
Related Categories:
Iraq
We are 100% volunteer and depend on your participation to sustain our efforts!
Get Involved
If you'd like to help with maintaining or developing the website, contact us.