From the Open-Publishing Calendar
From the Open-Publishing Newswire
Indybay Feature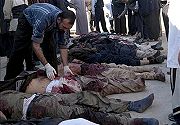 Sun Jul 9 2006
Sectarian Violence Raises New Fears Of Civil War
Violence pushes Iraq closer to all out civil war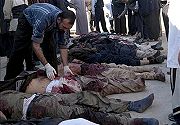 On June 9th
, "masked Shiite gunmen
stopped cars in western Baghdad
and grabbed people off the streets, singling out the Sunni Arabs among them and killing at least 41". Later, at least 25 people died when two car bombs
exploded near a Shia mosque
in the capital.
Baghdad's central morgue received 1,595 bodies
in June 2006 alone. According to the morgue assistant manager, most of the bodies had gunshot wounds to the head, a common feature of sectarian, execution-style killings.
50 killed, as a Raft of Bodies are Found in Baghdad | 13 Dead in Pilgrimage Bombing | Bodies flood Baghdad morgue | Civil War Violence Kills 50 Iraqis | Baghdad market blast kills scores | Civil War Violence Leaves 60 Dead over 100 Wounded 130,000 Displaced in Past 4 Months
The recent upsurge in sectarian violence in Iraq has raised fears of a civil war, with many Sunni Arabs saying that government-backed Shia militias are behind at least some of the attacks. On the other hand,
militant Shia Sadrists are complaining
about the US military operations in their areas of Baghdad and the arrest of their leaders. Many Sadrists believe that the US is conducting the military operations against the them in order to put pressure on Muqtada, who has been vocally calling for them to depart Iraq on a short timetable.
American attacks on Mehdi Army cause uproar among Shia | Rash of Mosque Bombings - Samarra'i Demands Banning of Shiite Militias | Several mosques attacked in Iraq | Sunni Mosque Burned | Massive Bomb in Sadr City Kills 74, Wounds 114 | US detains top Iraqi Sunni cleric
Adnan Dulaimi of the Iraqi Accord Front announced Sunday July 2nd that
his bloc had suspended its participation in parliament
in protest against the kidnapping of one of its members. Taysir al-Mashhadani, a woman MP from Baqubah. The announcement was a huge blow to the Maliki government, which had prided itself on presiding over a government of national unity that included the Sunni Arabs. The Iraqi Accord Front has 44 deputies in the 275-member parliament.
Maliki's dead end plan | National Unity Government on Verge of Collapse As Sunnis Threaten Pull-out
British forces are
facing rising violence among Shia Muslim factions in southern Iraq
, but are powerless to contain it. Since a spate of bomb attacks against them last autumn, British forces have largely kept out of the centre of Basra. Much of the police force in the south has been taken over by Shia militias who often clash with one another as well as intimidating ordinary people and attacking what is left of the Sunni community in the south.
Bombings in Basra, Hibhib kill at least 20 | Maliki's Basra Security Initiative Fails
Related Categories:

Iraq | International
We are 100% volunteer and depend on your participation to sustain our efforts!
Get Involved
If you'd like to help with maintaining or developing the website, contact us.