Wed Apr 12 2006
"There Is A Whole World Waiting For Us"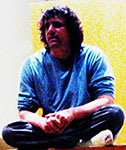 Derrick Jensen spoke at the Vet's Hall in downtown Santa Cruz on March 29th, 2006, as a benefit for the legal fees of
EcoPrisoners
arrested in the recent '
Green Scare
'. Jensen emphasizes the hate, dishonesty, and destructiveness in contemporary industrialized culture. He argues that this culture will soon collapse because of the damage being done to the planet.
Jensen proposes that a different way of life is possible, and it can be seen in many past societies including many Native American cultures. This different way of life is characterized by honesty, appreciation of beauty, and connection with the natural world. Politically Jensen's work is in favor of a revolution in values, the self, and society. His ideas are often in line with eco-anarchism, anarcho-primitivism and neo-Tribalism.
Read more

Audio (mp3)
:
Part 1
and
Part 2