From the Open-Publishing Calendar
From the Open-Publishing Newswire
Indybay Feature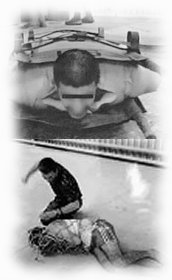 Sun Feb 19 2006
More Evidence Of Attrocities In Iraq
More Evidence Of Attrocities In Iraq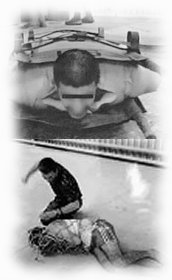 Pictures of Iraqi prisoners
—naked, wounded, covered with blood, women's underwear draped over their heads, bound in painful and degrading "stress positions"—
were broadcast on Australian television
Wednesday February 16th, further exposing the horrors inflicted at the US military's prison camp at Abu Ghraib and similar facilities across the globe.
New Abu Ghuraib Photos Published | The Abu Ghraib files (links to all photos) | Children raped at Abu Ghraib | Iraq Seethes over Abu Ghraib | Previous Coverage Of Iraqi Prisoner Abuse: 1 | 2 | 3
Video images of
British soldiers brutally beating a group of Iraqi teenagers
have also recently come to light. Soldiers are shown chasing youths, dragging four of them into a compound and beating them with batons and kicking various parts of their bodies — with at least one blow to the genitals. The attack went on for a minute, with 42 blows inflicted in that time. The News of the World said there was also one of a soldier kicking a dead Iraqi in the face. Shielded from public gaze by the camp wall, the soldiers are seen beating their captives, whilst another provides commentary: "Oh yes! Oh yes! You're gonna get it. Yes, naughty little boys! You little f***ers, you little f***ers. DIE! Ha, ha!" All but one of the captives are barefoot, and all are unarmed, dressed only in pants and t-shirts. One prisoner is seen pleading "No! Please!" as he tries to stop the assault, whilst the unseen commentator ridicules his cries and his accent, "No, pleeese—don't hurt me."
This is the real outrage | NPR Audio | Video fallout hits UK Iraq troops
Meanwhile Iraq has launched an investigation into claims that an
Iraqi interior ministry "death squad" has been targeting Sunni Arab Iraqis
. The Association of Muslim Scholars (AMS), the largest religious Sunni body in Iraq, said
the death squad discovery was not an isolated incident
. "It's not just one death squad. There are many," an AMS spokesman told AFP, declining to be named because of fear for his life. "In the northern Baghdad district of Hurriyah alone, some 70 young men from our community have been killed by these units, and the overall toll figure is likely to be more than 1,000 and includes 20 imams," he asserted.
From Jan 2005: US Military Considering Modelling War In Iraq After Reagan's War In El Salvador
We are 100% volunteer and depend on your participation to sustain our efforts!
Get Involved
If you'd like to help with maintaining or developing the website, contact us.