From the Open-Publishing Calendar
From the Open-Publishing Newswire
Indybay Feature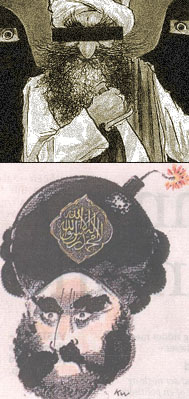 Fri Feb 10 2006
Racist Cartoons In Europe Spark Protests Worldwide
Protests around the world in response to Danish cartoons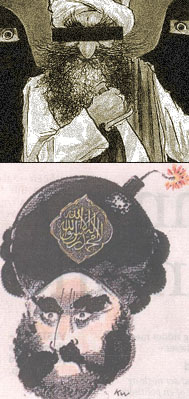 On
September 30th, 2005
, Denmark's most widely read newspaper,
Jyallands Posten
,
published a set of cartoons
depicting Muhammad. The editor of Jyallands Posten claimed to have commissioned the cartoons after a children's book illustrator refused to use his real name out of concern that any depiction of Muhammad might offend some Muslims. While
the children's book
was meant to teach Dutch children respect for other religions (and received no complaints from Muslim readers), the cartoons Jyallands Posten published were full of
racist stereotypes
associating all Muslims with violence and misogyny.
Muslim leaders in Denmark sent letters to Jyallands Posten complaining about the racist cartoons. Not only did the newspaper refuse to apologize, but many of those who sent letters received threats and more racist cartoons via email. Anti-immigrant, and specifically anti-Muslim, sentiments in Denmark
have been on the rise for years
with right-leaning political parties using immigration as the main issue in the election of February 2005 (with the current government relying on the
rabidly anti-immigrant
Danish People's Party as a key coalition partner). As Muslims in Denmark complained about racism in the media they were mainly met with anti-immigrant rhetoric in the press arguing that the Muslim population in Denmark was restricting the freedom for a newspaper to print racist cartoons without complaint.
Eleven Arab ambassadors asked for a meeting with Danish prime minister Anders Fogh Rasmussen on October 12th to register their protest, but the government declined. On
October 27th
, a number of Muslim organizations submitted complaints to the Danish police claiming that Jyllands-Posten had committed an offence under section 140 and 266b of the Danish Criminal Code. Section 140 of the Criminal Code prohibits any person from publicly ridiculing or insulting the dogmas of worship of any lawfully existing religious community in Denmark. Section 266b criminalizes the dissemination of statements or other information by which a group of people are threatened, insulted or degraded on account of their religion. On
January 6th 2006
, the Regional Public Prosecutor in Viborg discontinued the investigation as he found no basis for concluding that the cartoons constituted a criminal offence.
As the Danish Muslim community felt increasingly isolated and under attack, a group of religious leaders
toured the Middle East with a dossier containing the racist cartoons
to make the broader Muslim community aware of the plight of Danish Muslims. On
January 10th 2006
, a small Norwegian Christian magazine, Magazinet, printed the drawings after getting authorization from Jyllands-Posten. While a protest of several thousand people had taken place in Denmark in September, until the end of January 2006, all other protests were formal complaints by religious and government officials. On January 29th, the Danish flag was burned at a protest in the West Bank and
Danish NGO workers were threatened in Gaza
. On January 31st a German newspaper republished several of the cartoons and as did many papers across Europe on
February 1st and 2nd
. Most of the newspapers displayed the images with a message that it was the right of newspapers to display such racist images rather than because they related to a breaking news story (a strange assertion when
Indymedias have been legally threatened
and even
shut down
in Europe over cartoons). On
February 2nd
protests
continued in Gaza
and also took place in Morocco. On
February 3rd
, protests took place in Jakarta and London. On February 4th, the
Danish embassy was set on fire in Damascus
and on February 5th the Danish consulate was
set on fire in Beirut
. On
February 5th
two protesters were shot to death protesting in Kabul and on February 6th two more demonstrators were shot to death in front of the main US base at Bagram with
the death toll reaching 10
worldwide.
World Socialist Website writes
"It is noteworthy that those who have rallied to the defense of the right-wing anti-immigrant newspaper in Denmark that first published the racist cartoons have had little to say about the violence of repressive governments across the Middle East against their own people registering outrage over the widely disseminated insult to their religion."
Much of the mainstream media (and even networks like Air America) have commented on the riots with statements asking why Muslims would riot over something like this while "we have have learned to discuss religion civilly in the West". Juan Cole has responded by
listing some recent religious riots in Europe
and
Ali Abunimah from Electronic Intifada has pointed out
that it has only been a decade since a European genocide against Muslims in Bosnia. In the past five years there have been riots in India where
2000 muslims were killed by Hindu fundamentalists
, arson
attacks on mosques
in Holland,
thousands killed by the Russian military in Chechnya
, and in the last month
riots against Muslims in Australia
. Yet, while extreme fundamentalists are constantly pointed to in order to justify European and American racism against Muslims, extremist
neo-Nazi
,
fundamentralist Hindu
,
Jewish fundamentalist
and
Christian fundamentalist
groups which attack Muslims don't result in a similar level of collective guilt even when the attacks occur during elections where
anti-immigration rhetoric
takes an
overtly racist form
.
Islam bashing part of racist war for empire | Danes Finally Apologize to Muslims | Freedom of Speech or Incitement to Violence? A Debate Over the Publication of Cartoons | Death toll mounts in worldwide protests against anti-Muslim cartoons | Questions of Rights vs. Responsibilities | Danish Newspaper At Heart of Controversy Rejected Drawings Lampooning Jesus Christ | Robert Fisk: Now Lebanon is Burning | More outrage over Prophet cartoons | Anti-Islamic Racism In The American Media | Do You Support Religious Intolerance As Long As It's Against Muslims? | Muslims 'R' us, not them | Islamophobia Rears Its Ugly Head | Danish Imams Fume at Cartoon Punishment | Cartoons and Bombs: Was Rice Right for Once? | New York Times columnist David Brooks proposes the 'good crusade'
We are 100% volunteer and depend on your participation to sustain our efforts!
Get Involved
If you'd like to help with maintaining or developing the website, contact us.