From the Open-Publishing Calendar
From the Open-Publishing Newswire
Indybay Feature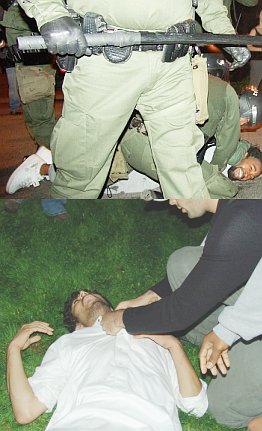 Thu Nov 17 2005
Students Arrested at Powell Protest Accuse Police of Targetting Muslims
Racist Arrests At Powell Protest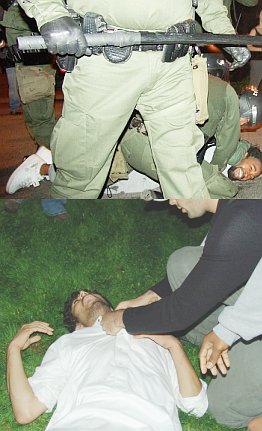 Colin Powell spoke at De Anza College from
November 9th through November 11th
. A peace camp and various civil disobedience actions
took place throughout the three days
, sponsored by a wide range of students and Bay Area anti-war organizations.
On
Friday November 11th
, protests started in front of the Flint Center before Powell's third appearance. One protester got inside and was arrested and while others tried to push their way through the police line outside. While the majority of those who engaged in confrontation were white, most of the people arrested were people of color. Out of seven of the protesters who were arrested outside of the Flint Center, six were Muslims of Arabic and African descent.
"They couldn't stand that we were dressed in Palestinian and Arabic clothes...They wanted revenge so they chased down, every one of us who were Muslim, until they could beat and arrest us, that's what they were waiting for " said De Anza student Hanni Zaki, 22, who was hospitalized for receiving injury to the head from police who stepped on his face and beat him with their batons.
Brian Helmle, was the first to be arrested inside the Flint Center earlier that night, during Powell's speech and was charged for Disturbing the Peace and Resisting Arrest. Helmle, who is 27, stood up while Powell was speaking about the virtues of American kindness and yelled out "Liar - liar, murderer – murderer," and blew his whistle until officers carried him across the stands to arrest him.
Helmle, who later met with other arrestees, was shocked to find that they were treated with such harshness and brutality and that he was the only Caucasian to be arrested that night. "I think that this is all about white privilege," said Helmle. "I wasn't treated in any harshness whatsoever by the police. The fact is that the eyes of the white crowd were on a white male doing strange things inside. What happened to those outside in the protest is ridiculous and racist. All they were trying to do was leave and get to their cars. I was intentionally trying to get arrested."
Police released Helmle by 1 a.m. that same night without taking him into custody. The seven others who were arrested outside the Flint Center were taken into custody, including the minor Eltilib, and detained overnight in harsh conditions. Al-Hayiek is the only one to still be in custody awaiting an arraignment for bond.

Photos: 1 | 2 | 3 | 4 | 5 | 6 | 7 | 8 | 9 | 10 | 11
Minorities Beat by Police at Powell Protest | Students Arrested at Powell Speech Protest Accuse Police of Racial Profiling

Event Announcement |

Freak Radio PSA
Colin Powell De Anza College Resistance Blog
We are 100% volunteer and depend on your participation to sustain our efforts!
Get Involved
If you'd like to help with maintaining or developing the website, contact us.