From the Open-Publishing Calendar
From the Open-Publishing Newswire
Indybay Feature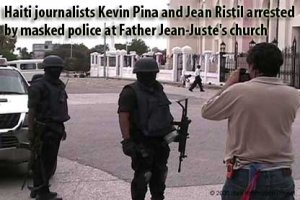 Sat Sep 10 2005
Journalists Kevin Pina And Jean Ristil Released After Spending Weekend In Jail
Kevin Pina and Jean Ristil arrested by masked police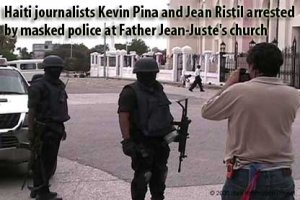 9/12/2005:
Kevin Pina and Haitian Jean Ristil were released today after spending the weekend in jail. They were freed, without being charged, by the judge who had ordered their arrest at the church of the Rev. Gerard Jean-Juste.
Read More
9/9/2005:
International journalist and Flashpoints Radio correspondent, Kevin Pina, was arrested at about 5:00 PM on Friday. Another journalist, Jean Ristil, was also arrested shortly after he reported on the situation from St. Claire's Church in the Delmas district.
Heavily armed and masked SWAT members of The Police Nationale d'Haiti (PNH) had arrived at Rev. Fr. Gerard Jean-Juste's church to serve a search warrant Friday with a juge d'instruction and juge de paix. The PNH were ostensibly "searching for weapons" at the church where 600 - 800 children are fed. Many children were present when the SWAT police began destroying the rector. Kevin Pina began questioning the government officials as to why they were destroying the church property and was arrested. "You're nothing but a troublemaker! Your friends in California are always causing us trouble ..." claimed the officials as they put Pina under arrest. Reporter Jean Ristil was present during this and was reporting the scene to Marguerite Laurent when he said that he couldn't talk anymore and was also arrested.
Pina and Restil are being held in a small cell with approximately 7 other men. Pina was able to give the following description of events:
"We went to cover the PNH search of Fr. Jean-Juste's church for guns. The police were clearly initmidating the boys in the presbytery. I scaled a wall to enter the compound, but a policeman outside said nothing to stop me from doing so, and I would have stopped had he done so. I also have an open invitation from both Fr. Jean-Juste and the priest who has been conducting the feeding program while Jean-Juste is in prison to come to the church as I please.
"When both Jean and I had scaled the wall the judge of instruction supervising the police operation began screaming at me, saying that I was a foreign terrorist and with Lavalas. He told the police to take my camera, which I would not let them do. I told them that before they did anything else I wanted to see a representative of my embassy. They then handcuffed me and put me in the back of a police car. Now the judge claimed I hit him. I have been covering Haiti since 1989 and I have never raised my hands to anyone in authority, and would never do so."
Read More | Demand Release of Kevin Pina and Jean Ristil | HaitiAction.net | Flashpoints Audio (1.4 mebibytes Mp3) | Flashpoints
Related Categories:
Haiti
We are 100% volunteer and depend on your participation to sustain our efforts!
Get Involved
If you'd like to help with maintaining or developing the website, contact us.