From the Open-Publishing Calendar
From the Open-Publishing Newswire
Indybay Feature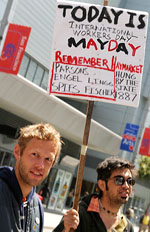 Mon Apr 25 2005
May 1st is MayDay
MayDay Celebrates International Workers' Day, Coming of Spring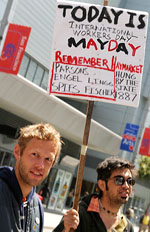 MayDay is the original labor day in the United States- it started as International Workers' Day in the late 1800's. It has also been observed in Celtic culture as "Beltane," a holiday in observation of the coming of spring. Walpurgisnacht, the night of April 30th, is a night on which people, including witches, conduct rituals to ward off the evil spirits of winter, and children play pranks on unsuspecting victims around midnight.
Read more
Many people still dance the
MayPole
every year on May 1st. San Francisco has also recently had a tradition of Reclaim MayDay events, which included labor, pagan, and artistic celebrations of MayDay.
MayDay 2005 was celebrated in many ways in the San Francisco Bay Area. A
Labor May Day Rally
took place in San Francisco on May 1st at 12pm at Harry Bridges Plaza, across from the Ferry Building. The event demanded jobs with a living wage, help to bring back MayDay, and remembering Albert R Parsons, who was executed by the US government during the fight for the eight hour day.
Read more
A May Day
March and Rally in Solidarity with Local Labor Struggles and Immigrant Workers
took place on Sunday May 1st. At 3pm there was a march from Jefferson Square Park to a 5pm Rally at Dolores Park. There was also be a Town Hall meeting, with food, music, and film screening, all starting at CellSpace at 7pm. At the 5:00 rally, there were speakers from recent and ongoing local labor and immigrant workers struggles, including a report-back from the recent delegation, which went to Arizona protesting the racist, vigilante Minuteman Project. The Town Hall focused on organizing against the proposed cuts and fare hike of San Francisco's public transportation system.
Read more
A May Day
Labor Forum
, entitled "Workers and The Struggle Against Government Repression" took place May 1st, 2005 at 7:30PM, at ILWU Local 10, 400 North Point St. San Francisco. During the 2002 contract struggle, the employers' lock-out of longshore workers was followed by Bush's invoking of the Taft-Hartley act. Organizers say that government and employer attacks have increased in tandem with the globalization of trade. "What challenges for workers lie ahead? How can the labor movement defend against joint attacks?." Speakers addressed these questions.
More about the event
Other events:
Community Speak Out against War
at 5pm in Sacramento |
Other Central Valley Events
|
Free Mind Media Grand Opening Art Show
at 6pm in Santa Rosa | CounterPULSE (formerly 848 Community Space) Opening May Day Celebration at 7pm in San Francisco |
Street Level TV Screening of Episode 13
|
Reclaiming's Annual Beltane Ritual
took place in SF's Golden Gate Park at 12pm |
More May 1st Events from Indybay's Calendar
Indybay Coverage of MayDay 2004 | MayDay 2003 | 2002 Festivals of Resistance | 2002 Anti-Capitalist and Union Marches in SF and Oakland | 2002 Reclaim the Streets in Berkeley on 4/30/02 | MayDay 2001 was one of the first global MayDays | MayDay Reclaim the Streets 2001
We are 100% volunteer and depend on your participation to sustain our efforts!
Get Involved
If you'd like to help with maintaining or developing the website, contact us.