From the Open-Publishing Calendar
From the Open-Publishing Newswire
Indybay Feature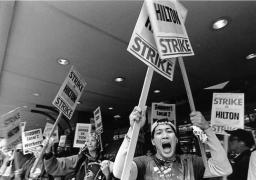 Mon Sep 6 2004
Hotel Workers Locked Out Indefinitely
San Francisco Hotel Workers Strike & Lockout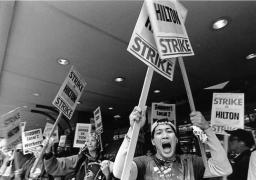 10/16:
Photos from the Picket Lines
|
Map of Locked-Out Hotels
10/13:
Strikin' to Survive in San Francisco
|
Stop Deliveries to Scab Hotels
|
Picket lines on Wednesday
|
Labor on the Job TV segment
10/12:
SF Hotel Strike: Fat Cats, Scabs, Fires & Marines
|
Report From Hotel Picket line
|
UNITE HERE Local 2 rally at Union Square
|
Audio
|
John Edwards joins the hotel workers
|
Video: Lybon Mabasa supports hotel workers
10/11:
Jesse Jackson joins hotel workers' rally
|
Stop Bosses' Business or Watch Another of our Unions Smashed
10/10:
Working Class Solidarity Flying Picket
|
Photos
| Audio:
1
|
2
|
3
|
Future Flying Pickets
10/07:
Video: Domestic Workers Rights Coalition supports Local 2 hotel workers
|
Danny Glover joins the picketline
|
Rally at CCSF
10/05:
SF Hotel Strike: Report from the Front
|
Strike Breakers Out of SF Hotels
10/04:
Hotel Strike: Stop Scab Labor Ads; Build A Labor Movement
10/02:
Photos from the Picket Lines
|
Sheraton
|
Argent
|
Hyatt
|
Support Needed for Hotel Strikers: We All Can Help
10/01:
Ten SF Hotels Lock Out Workers
|
General Strike is Needed Response to Hotel Lockout
|
Boycott of Comfort Suites
09/29:
Two-week strike called at four SF hotels
| Photos from the First Day of the Strike:
1
|
2
|
3
09/15/04:
From the Newswire
- By a vote of 3139 to 88 (97.3%), workers at 14 San Francisco hotels have voted to authorize a strike if their negotiating committee is unable to move management to sign a fair contract. 77% of eligible members turned out to vote. These members have been working without a contract since 08/14, while the hotel corporations have continued to take a hard line in negotations. In addition, 1271 workers from dozens of other San Francisco hotels turned out to sign a solidarity pledge -- committing to support their sisters and brothers in the event of a strike or lockout. [
Read full article
]
09/07/04:
From the Newswire
- "Thousands of hotel workers, Local 2, turned out in San Francisco in the searing heat to demand the big hotels sign a union contract. About a hundred were arrested for sitting on the cable car tracks in front of the St. Francis Hotel.
"The hotel workers' contract expires 09/14 at most of the big hotels, with other hotel contacts expiring soon thereafter . The big hotels are Argent Hotel, Crowne Plaza Union Square, Fairmont San Francisco, Four Seasons San Francisco, Grand Hyatt, Hilton San Francisco, Holiday Inn Civic Center, Holiday Inn Express, Holiday Inn Fisherman's Wharf, Hyatt Regency San Francisco, Mark Hopkins Inter-Continental, Omni San Francisco Hotel, Sheraton Palace Hotel and Westin St. Francis. Not all hotels are union; that must change." [
Read full article
]
Read More: Strike Decision
[
1 | 2 | 3
]
| Labor Day Action
-
Photos
[
1 | 2
]
Video
[
1 | 2 | 3 | 4
]
We are 100% volunteer and depend on your participation to sustain our efforts!
Get Involved
If you'd like to help with maintaining or developing the website, contact us.