From the Open-Publishing Calendar
From the Open-Publishing Newswire
Indybay Feature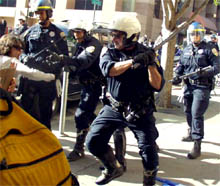 Sat Mar 20 2004
March 20th 2004: Breaking News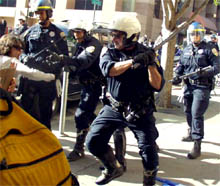 3/21, 2:00am:
The IMC videographer who was violently arrested earlier this evening has been released from the hospital. Aside from the huge welt inflicted by police batons on his forehead, he was treated for a splintered bone in his hand.
3/20, 7:30pm:
A jail solidarity protest has been underway at
850 Bryant Street
for a couple of hours. Police formed a barrier around the protesters demanding the release of the estimated 80 prisoners inside. Police also continued their strategy of targetted harassment by picking protesters with masks out of the solidarity vigil in front, detaining and photographing them "under the Patriot Act," including a NLG legal observer. At least one person was arrested
at
the jail. One protester who was targetted in today's march and plucked out of the crowd has not been cited out yet and is currently being held on a
$26,000
bond. This kind of repression is a repeat of last year's targetted arrest of one
DASW
organizer, who was also plucked from a march, after being told that "(the police) have been looking for you".
Most of the arrests were made on Market Street, while many arrests were very violent resulting in several serious injuries and a trip to the emergency room for a confirmed broken arm for one man. In addition, the IMC videographer is asking for medical help for head and hand injuries.
3/20, 4:35pm:
The bloodied protester has been loaded into the back of a fire department paramedic van full of police, while the other arrestees, including the IMC reporter, have been taken away in Sheriff's van #631. One report is that a police motorcycle was overturned, and the police ran after a man they suspected of having toppled it. They snagged the wrong man and beat him senseless. When the IMC videographer came over to videotape the arrest, he was thrown to the ground and arrested as well, along with three other witnesses.
3/20, 4:27pm:
Market/Jones: The update now is that at least five people have been arrested, including one man who has been severely beaten bloody and needs medical help. The estimate coming in is 50-60 police and 20 witnesses on one side of the police line and 20 people on the other side of the police line. The arrestees are two women and three men, one of them being an IMC videographer with a clearly-displayed SFPD press pass. Ambulances cannot get through to administer medical aid. The man who has been beaten bloody is crying that the police have broken his arm. The IMC reporter and the two women are being booked and loaded into the back of the Sheriff's van.
3/20, 4:25pm:
The police have chosen to single out three protesters who were attempting to cross the street, as the band-led march clashes onto Market Street. The three protesters were jumped on and pushed into the ground, in addition to a fourth man and IMC reporter who has been tackled, thrown to the ground, beaten in the face and arrested. Photographers were able to document a silver dollar-sized welt on his forehead.
3/20, 4:20pm:
The breakaway march split into two groups: the contingent in front of Nordstram's of about 50 is slowly being arrested by police still. Another group led by INB is now marching up Jones on the sidewalk approaching Market Street.
3/20, 4:00pm:
The Infernal Noise Brigade has led people to Ellis and Taylor, where reports are coming in that motorcyle police are separating around 200 people onto two separate sides of the street. We also received unconfirmed reports that three police cars were surrounded on Eddy Street.
3/20, 3:30pm:
The police are now rushing the rest of the crowd with riot gear. People are reporting battery with nightsticks and cops on bikes. They are being instructed to get on the sidewalk, but before they can, they are being beaten down onto the ground.
3/20, 3:20pm:
According to reports, the breakaway march was stopped at 6th Street and Market by police, and after being surrounded, a handful of people have attempted to break through police lines and have escaped. The police have issued a warning that protesters will be "subject to batons" if they do not disperse, and around 20-30 protesters are now being arrested.
3/20, 3:12pm
The police have surrounded the protesters about 2 deep and have apparently surrounded an even smaller group of protesters about five deep. Protesters are chanting, "Let them go! Let them go!"
3/20, 3:05pm:
The breakaway march has begun to form a mass of over
500 people
on Market Street between Nordstram's department store and Mason/Turk. The police are issuing an order to disperse.
3/20, 2:52pm:
According to reports, the breakaway march is heading east down Turk between Hyde and Leavenworth, complete with police escort.
3/20, 2:50pm:
Police officials are estimating that around
2,000
people have splintered away from the main mass in Civic Center Plaza and are taking off down Larkin Street.
3/20, 2:35pm:
While the crowd listens to
Woody Harrelson
speak, more people are still spilling into Civic Center Plaza.
3/20, 2:20pm:
The
National Lawyers Guild
has called into the radio station asking that people call their legal hotline for help with any legal problems stemming from actions at today's protest. The number is:
415-285-1011.
3/20, 2:15pm:
Police have formed a diagonal line
through
the crowd of thousands crowding into the intersection of Polk and Grove. It appears that they are trying to restrict anyone from the main march from splitting off and joining any breakaway marches.
3/20, 2 pm:
Photos
Report of 6 different breakaway groups forming up.
3/20, 1:15pm:
March is at Van Ness and Market Street, with a confirmed report from
ANSWER
officials that the march is
50,000+
people, with both sides of Market Street completely shut down. About 200 police officers are marching at the front of the march, on the right side of the street, refusing to allow people to join the march from the right. They are creating a protective shield in front of the businesses lining the right side of the street, but don't seem too concerned about damage to any of the low-income housing units on the left side of Market. Call-outs are being made for people to break loose from the restrictive march and meet back up at 2pm for the
breakaway march
.
3/20, 12:35pm:
A large
Bikes Not Bombs
contingent is forming at 16th/Mission and heading towards downtown in 10 minutes.
3/20, 12:25pm:
The crowd count has now been updated to
20,000
as people pass 18th/Mission St., with masses of people still trying to leave Dolores Park.
The Infernal Noise Brigade
has come down all the way from Seattle to join in the festivities and amp up the crowd and is winding its way towards the front of the march. People of color contingents are continuing to regroup, with
Students for Justice in Palestine
calling for an end, not only to the occupation in Iraq, but also in Palestine. One group has constructed a giant mock-up of the Israeli Apartheid Wall and is marching alongside the masses of people.
3/20, 12:15pm:
The Strength and Unity people of color contingent is holding its own, merging their feeder march from 24th/Mission into the mass, with veteran civil rights activist
Yuri Kochiyama
leading the way.
3/20, 12:05pm:
As the
Haiti Action Committee
finishes its rallying cry for action against the US backed coup and occupation of Haiti, tens of thousands of people are spilling out onto the streets bordering Dolores Park, a teeming mass of wall-to-wall people. Definitely bigger than the October 25 march, people are starting to get in formation on Dolores Street, with a huge contingent of people packed in front of Mission High on 18th Street. The crowd is very diverse, ranging from young children to elders, and men and women and radical gender queers from all walks of life.
Related Categories:
Anti-War
We are 100% volunteer and depend on your participation to sustain our efforts!
Get Involved
If you'd like to help with maintaining or developing the website, contact us.