From the Open-Publishing Calendar
From the Open-Publishing Newswire
Indybay Feature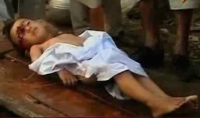 Mon Jul 28 2008
132 Civilians Killed During Month of July in Afghanistan by U.S. Led Forces
Civilian Death Toll From U.S. Air Strikes in Afghanistan Continues to Rise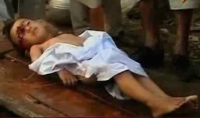 In at least five separate incidents during July alone, U.S.-led NATO forces have killed as many as 132 civilians in Afghanistan. The worst of the five attacks took place in the Deh Bala district of the Nangarhar province in eastern Afghanistan, when a U.S. air strike killed 47 civilians on July 6th. Another air strike killed up to 22 Afghani civilians on July 4th, when missiles from U.S. helicopters struck civilians in Kunar. Nine more Afghani civilians were killed in the province of Farah on July 15. In a fourth civilian killing, up to 50 civilians died and at least seven more were wounded in the western province of Herat. The fifth and most recent attack occurred on July 20th, when at least four Afghani civilians were killed.
These latest attacks come on the heels of a trip to the Bagram and Jalalabad air bases by the leading US Presidential contender, Senator Barak Obama, in which he reiterated his long-held policy plans to
increase the U.S. troop presence
in the country by up to 10,000 more soldiers. "This is a war we have to win," proclaimed Obama, during his highly publicized and ongoing international trip.
The presumptive Republican nominee for President, Senator John McCain, has also proposed troop increases in Afghanistan by pledging at least three more brigades to the already 34,000 U.S. troops. Roughly half of the total number of foreign troops are currently comprised of U.S. soldiers. Since neither candidate has any plans or proposals for an immediate or phased-in withdrawal from the country, it is probable that without anti-war resistance in the U.S. and abroad, the U.S.-led occupation will continue through the next term of the Presidency until 2013.
The flurry of air strikes are part of a planned and ongoing offensive that has resulted in at least one official
investigation
that was called for by Afghanistan President Hamid Karzai, a strong supporter and ally of the Bush administration, who also met with Senator Obama during his visit this past weekend. Democracy Now!
reported
that the latest air offensive is the most intense seen in Afghanistan since 2003. U.S.-led forces have occupied the beleaguered, oil-rich nation since 2001.
Civilian Death Toll Continues to Rise by Heightened U.S. Air Strikes in Afghanistan | US to investigate air strike that killed 47 Afghan civilians | Afghan wedding party killed in a second air strike over three days l Civilian deaths in Afghanistan soars: Red Cross l airstrikes kill 50 civilians in Herat l AFGHANISTAN: Afghan paper warns of new resistance front unless civilian casualties stop l Photos of Civlian Dead
Related Categories:

Afghanistan | International | Front Page
We are 100% volunteer and depend on your participation to sustain our efforts!
Get Involved
If you'd like to help with maintaining or developing the website, contact us.