From the Open-Publishing Calendar
From the Open-Publishing Newswire
Indybay Feature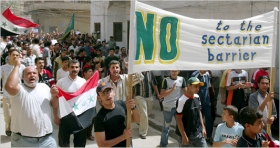 Sun Apr 29 2007
The Walling Off Of Baghdad Neighborhoods
The Great Wall of Segregation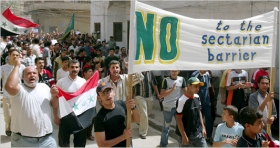 US commander General David Petraeus has ordered that at least 10 areas of Baghdad be entirely sealed off by walls. Five extra US brigades and additional Iraqi Army units have been deployed to Iraq's capital to carry out the operation. Once an area is enclosed, Petraeus's tactics call for American and Iraqi government forces to maintain bases and conduct aggressive patrols aimed at flushing out and killing or capturing insurgents. The western Baghdad district of Ghazaliyah has already been walled off. The 15,000 residents of the area are subjected to curfews and can only enter and leave through one checkpoint, where they are subjected to repeated identity checks and searches. Since
April 10
, US forces have been constructing a five-kilometer wall made of six-ton concrete sections along the highway dividing Adhamiyah from its Shiite neighbors. On
April 23rd
,
residents the Sunni enclave demonstrated
and shouted slogans against the wall. About 2,000 people marched through al-Adhamiyah carrying banners saying that their district was being turned into "a big prison". On
April 23rd
, Iraqi Prime Minister, Nouri Al Maliki,
called for a stop to the construction
of the al-Adhamiyah wall, but the US military has said that it will continue building the wall. Colonel Don Farris, of the US army, said that after briefly halting construction of the barrier, the Iraqi government had now ordered the building of the wall to continue. "The Americans will provoke more trouble with this," one resident, Arkan Saeed, told the BBC. "They're telling us the wall is to protect us from the Shia militia and they're telling the Shia they're protecting them from us. "But it's the Americans who started all the sectarian violence in the first place."
Riverbend From Baghdad Burning writes
:
Which is the wall the current Iraqi government is building (with the support and guidance of the Americans). It's a wall that is intended to separate and isolate what is now considered the largest 'Sunni' area in Baghdad- let no one say the Americans are not building anything. According to plans the Iraqi puppets and Americans cooked up, it will 'protect' A'adhamiya, a residential/mercantile area that the current Iraqi government and their death squads couldn't empty of Sunnis.
...
The Wall is the latest effort to further break Iraqi society apart. Promoting and supporting civil war isn't enough, apparently- Iraqis have generally proven to be more tenacious and tolerant than their mullahs, ayatollahs, and Vichy leaders. It's time for America to physically divide and conquer- like Berlin before the wall came down or Palestine today. This way, they can continue chasing Sunnis out of "Shia areas" and Shia out of "Sunni areas".
...
I remember Baghdad before the war- one could live anywhere. We didn't know what our neighbors were- we didn't care. No one asked about religion or sect. No one bothered with what was considered a trivial topic: are you Sunni or Shia? You only asked something like that if you were uncouth and backward. Our lives revolve around it now. Our existence depends on hiding it or highlighting it- depending on the group of masked men who stop you or raid your home in the middle of the night.
Al-Ahram: Dividing Baghdad | US army to continue Baghdad wall | Sadr Condemns Wall | Iraqi Press on Baghdad Wall | "We'll be Like the Palestinians!": Sunnis Protest Baghdad's "Prison Wall" | Iraqis oppose US plan to divide Baghdad into ghettos | Iraqi crowds Reject Security Wall | More US Segregation Barriers in Baghdad | Baghdad: Cementing the Divide | US Walls off Adhamiya | Iraqis Decry US "Separation Wall" | Robert Fisk: America's plan for Baghdad
Related Categories:

Iraq | International | Front Page
We are 100% volunteer and depend on your participation to sustain our efforts!
Get Involved
If you'd like to help with maintaining or developing the website, contact us.