From the Open-Publishing Calendar
From the Open-Publishing Newswire
Indybay Feature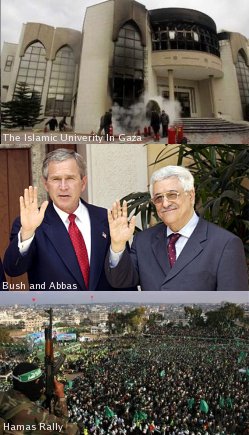 Sat Feb 3 2007
The American proxy war in Gaza
Abbas, Dahlan and Bush's War Against Iran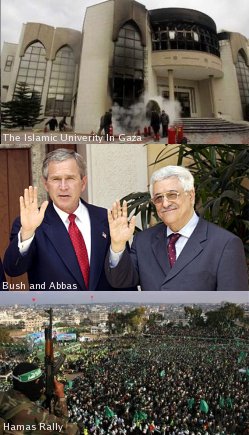 In the past week, fighting between Hamas and Fatah has left more than 32 people dead and many more injured, bloody clashes that have pushed Palestinians one step closer to the brink of a civil war between Abbas and his Fatah faction on the one hand, and the Hamas-led government on the other. On
Electronic Intifada
, Ali Abunimah writes: In the fevered minds of Bush administration ideologues, Palestine has become another front in what they conceive of as a new Cold War against "Islamofascism." They see Iran as the central target and proxy battles are being waged against a phantom enemy from Afghanistan and Pakistan, through Iraq into Palestine, Lebanon, Somalia and ever onwards wherever Arabs and Muslims are to be found. In every case, local conflicts with specific histories are being escalated and marshalled into this grand narrative .
Mahmoud Abbas and Gaza warlord Muhammad Dahlan have become the willing proxies for the Palestine franchise of this wider project, as their tactics and loyalists' statements reveal.
The latest round of fighting began on February 1, when forces of the Palestinian Ministry of Interior, run by the Hamas government, attempted to interdict a convoy of trucks that crossed into Gaza from Israel. Officials alleged that the trucks were carrying weapons destined for the Presidential Guard, the militia loyal to Abbas.
Yet the fact that the Presidential Guard is receiving arms via Israel is common knowledge to Palestinians in Gaza and the West Bank and has been talked about openly in the Israeli media for months. Since October, eight truckloads of AK-47 rifles and machine guns and several million rounds of ammunition have entered Gaza from Israel through the Nahal Oz and Kerem Shalom crossings, according to a high-ranking officer of the Force-17 Fatah militia who conveyed this information to Hebron-based journalist Khaled Amayreh. Not all these guns go solely to the Presidential Guard; many are sold on to the highest bidder.
And just days ago, President Bush announced that he would transfer $86 million dollars in the near future to further boost Abbas.
In order to change the subject from the scandal of the Palestinian "presidency" receiving US arms through Israel to use against the Palestinian people, the Presidential Guard launched a counterattack against the Islamic University in Gaza shelling, burning and destroying parts of it. Abbas' officials claimed that their forces had arrested seven Iranian weapons experts working for Hamas, and labelled Hamas leaders "extremists" and "putschists." Fatah and Fatah-backed local radio even accused Hamas of burning down the Islamic University themselves in order to blacken Fatah's 'glorious image.' The allegations about Iranians were universally dismissed but they revealed the extent to which Abbas officials have adopted the Israeli and American paradigm as their own.
Read More | Abbas: Far from 'the right and moral point' | Why Bush is Selling Arms to Fatah: When In Doubt, Start Another Civil War | Clashes between Hamas and Fatah: Are We Proud of This?! | Palestine National Unity: More delays, more deaths | Palestinians Bleed to Israel, Infighting | Fierce clashes shatter Gaza truce | Violence continues in Gaza | Hamas calls halt to unity talks | Eleven die as Gaza factions clash
We are 100% volunteer and depend on your participation to sustain our efforts!
Get Involved
If you'd like to help with maintaining or developing the website, contact us.