From the Open-Publishing Calendar
From the Open-Publishing Newswire
Indybay Feature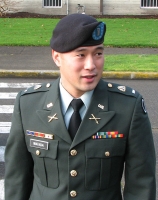 Fri Jan 5 2007
(Updated 01/10/07)
Reporters and Activists Remain Under Order to Take Stand in Court-Martial
Lt. Ehren Watada Appears at Pre-Trial Hearing in Ft. Lewis, Wash.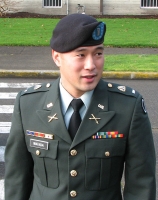 On
January 4th
, Lt. Ehren Watada sat before a military judge in Ft. Lewis, WA for a pre-trial hearing that would define what will, and will not, be admissible by the defense during the court-martial which begins on
February 5th
. Watada's defense attorney, Eric Seitz, argued that "the legality of the Iraq War is not merely a political question. Lt. Watada's specific intent was to avoid unlawful actions in Iraq… For the sake of due process, we need the opportunity to raise this issue." The Army's lead prosecutor, Captain Daniel Kuecker, repeatedly defended his subpoenas of civilian reporters Sarah Olson and Gregg Kakesako, and anti-war activists Phan Nguyen and Gerri Haynes, as "relevant" and "admissible" for the prosecution. These reporters and activists remain under order to take the stand on Feb. 5th.

Report and photos
Meanwhile, Iraq Veterans Against the War Deployed established "Camp Resistance", an encampment outside the gates of Ft. Lewis to support Lt. Watada that will remain through the upcoming court-martial.

Photos
In San Francisco, 28 protesters were arrested after over 200 people gathered at the Federal Building on
January 4
to show support for Watada.

Photos: 1 | 2 |

Video
The Army subpoenaed Oakland journalist Olson in December to testify about her interview with Watada, the first commissioned officer to refuse orders to deploy to Iraq and the first military officer charged with public dissent since 1965.
On
January 2, 2007
, shortly after her appearance on Democracy Now, journalist Sarah Olson received word that the U.S. Army was backing off of its demand that she testify at the January 4 pre-trial hearing in the court-martial of Lt. Ehren Watada.
Read More
Dec. 29th update:
Journalists object to Army's attempts to compel them to testify in court-martial.
Why I object to testifying against Lt. Watada | Democracy Now: U.S. Army Subpoenas Independent Journalist
On
December 14th
, a US Army prosecutor subpoenaed independent journalist, radio producer and former Indybay volunteer Sarah Olson, seeking her sworn testimony at the court-martial of First Lieutenant Ehren Watada. Watada refused deployment to Iraq earlier this year. Olson was served with a two-page subpoena at 8:45 a.m. at her home in Oakland, demanding that she appear at Watada's court-martial in Fort Lewis, Washington, February 5 through 9. Independent journalists
Sari Gelzer
and
Dahr Jamail
are also both on the witness list. Olson wrote a news story about Watada in June that was published June 7th on the Truthout web site. In that article, Watada publicly challenged the legality of the war, saying "as I read about the level of deception the Bush administration used to initiate and process this war, I was shocked. I became ashamed of wearing the uniform". It is believed that the Army wants Olson to authenticate the substance of her article and to confirm the statements Watada made to her.
From Truthout.org:
The charges filed against Watada marked the first time in 41 years that the military has used the charge of conduct unbecoming an officer to prosecute an officer's public statements. Usually, a conduct-unbecoming case involves more-serious crimes, such as rape, sexual harassment, or manslaughter. The last time a military officer was charged with public dissent was in 1965, when Lieutenant Henry Howe criticized US foreign policy during the Vietnam War. Read More
Aaron Glantz writes
:
The military's approach of journalists in the Watada case has alarmed observers within the media. Television reporter Gary Hill, who chairs the Society of Professional Journalists ethics committee, told IPS the subpoenas are "part of a continuing pattern of the federal government becoming more and more aggressive in going after journalists."
Hill said that in recent years, the federal government has done its best to make reporters part of the law enforcement process, which runs counter to the profession's code of ethics. "The reporters should do everything they can to avoid being in court," he said. "Reporters need to act independently. You shouldn't become part of the government's effort to try and punish an individual as a result of reporting you've done." Hill said the military's attempts to pull reporters into the courtroom raises the question of whether the Pentagon is "really more about trying to stifle free speech on this important issue [of the Iraq war], to discourage other soldiers from speaking out."
Reporter Summoned to Testify Against War Resister | Oakland Journalist Sarah Olson Subpoenaed in Watada Case | Sarah Olson Interviews Lieutenant Watada | Iraq War Vets' Support for Lt. Watada Growing
Thank You LT website | Previous Indybay Coverage Of Ehren Watada
We are 100% volunteer and depend on your participation to sustain our efforts!
Get Involved
If you'd like to help with maintaining or developing the website, contact us.