From the Open-Publishing Calendar
From the Open-Publishing Newswire
Indybay Feature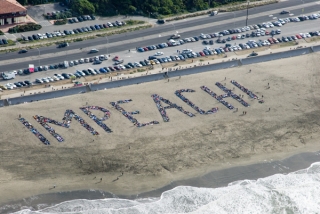 Mon Jan 1 2007 (Updated 01/12/07)
Impeachment Movement Heats Up With Beginning of New Congressional Term
Mon Jan 1 2007 (Updated 01/12/07)
Protesters Form Human "IMPEACH!" sign at Ocean Beach on Saturday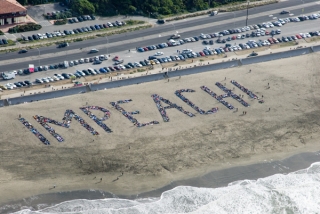 The movement to impeach President George W. Bush is kicking into high gear with the beginning of the new Congressional term. Impeachment advocates feel emboldened by the democratic majority that was elected in November and plan to move forward. Some advocates called for
500,000 letters
demanding action to Pelosi, to be sent by her first day as Speaker. Many believe that
impeachment is the only way to bring the troops home
.
Gold Star Families for Peace kicked off its campaign demanding Impeachment on January 3rd and 4th with two days of lobbying in Washington, DC.
Announcement from Cindy Sheehan
There was also a
protest in Washington, DC
on the 4th.
On
Saturday, January 6th
, over 1000 people people gathered to
form a human "Impeach" sign
in the sand at Ocean Beach. "I think it went really well," added Newsham after a helicopter had passed over the diverse crowd of Bush-loathers. "We need to let these people know what the people feel and we need to stand up for what we believe in. We need to hold ourselves accountable for the things we've done as a nation, and the only way to do that is by holding our leaders accountable."

Photos: 1 | 2 | 3 | 4 | 5 | 6 |

Video: 1 | 2 |

Audio Announcement | BeachImpeach.Org
On
December 31st
, an Impeach Bush/Cheney Rally was held in San Jose.

Photos

Grassroots, Democratic Leaders Disagree on Impeachment from KPFA News | Beach Impeach Project | Between the Lines: Grassroots Impeachment Campaign Launches Campaign | Call for January 3rd action | Daring to Change Minds and Move Millions: The Case for Impeachment Now
Related Categories:

San Francisco | U.S. | Government & Elections | Front Page