From the Open-Publishing Calendar
From the Open-Publishing Newswire
Indybay Feature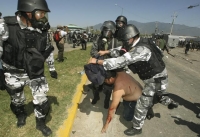 Wed Nov 1 2006
(Updated 11/05/06)
Confrontations at the Barricades in Oaxaca
APPO "Mega-March" Begins Morning of Nov. 5th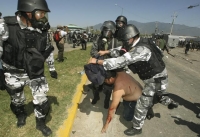 Nov. 4th:
At 2 a.m., the barricades at Cinco Señores and Radio APPO were attacked by paramilitaries. Aside from these attacks, it was reportedly a quiet day in Oaxaca. A caravan from Mexico City left at around noon to meet in Oaxaca for Sunday's "Mega-March" against the PFP and Ulises Ruiz (starting at 10 a.m., or 8 a.m. Pacific time). The caravan has reported seeing many PFP troops and roadbloaks outside of Oaxaca, and four PFP jets flying into Oaxaca airport. Radio APPO's transmissions were jammed for much of the day.
November 3rd:
Radio Universidad came under attack once again this morning at 7am by paramilitary gunfire.
Read
developing updates from today. Volunteers from Centro de Medios Libres have posted their
analysis
of yesterday's events.
November 2nd:

University under siege by Federal Police | Photos from Día de los Muertos in Oaxaca
PFP launched an attack earlier today on Radio Universidad, but was forced to retreat by crowds of supporters.
Report
Among many reports of disappeared and missing persons, two girls were reported kidnapped by helicopters. Helicopters were also used throughout the day to launch teargas cannisters on the barricades.
Read
english transcript from Radio Universidad
November 1st:
Concerns about the presence of the PFP (federal "preventive" police) in the area around Oaxaca's
Radio Universidad
have heightened, and it is anticipated that a raid and attempt to shut down the station could occur tonight. (
English Translation from radio broadcast 1 | 2
) The PFP reportedly has received a search warrant to go into the University. The hosts on the radio are calling for people to come out to the station to defend it physically, and to document the actions of the PFP and its supporters. Callers are reporting violent attacks on the people's barricades, as well as detentions. CIPO-RFM, or the Indigenous People's Council of Oaxaca-Ricardo Flores Magon, is concerned that the priistas will try to
kick them out of their house tonight
. They are asking for people to hold the Mexican government for whatever attacks might occur.
Centro de Medios Libres is reporting that menacing flyers have been distributed in Oaxaca today by the pro-PRI people (priistas) who have worked as paramilitaries against the recent social mobilizations. One of the flyers calls for the arrests of several named protesters. CML says that there is a siege on informatin in Oaxaca, as most of the people's media have been shut down, as well as commercial media. Radio Universidad is reporting invasions by the PFP, and the need for people to bring their cameras and videocameras to get evidence of the destruction. Representatives of the Human Rights Commission are in Oaxaca to take people's testimony about what is happening. Yesterday, Danielsan pointed out that although the PFP had retaken the Zocalo, that was the only area that they controlled-- and they were using the very sleeping bags and other equipment that belonged to the people they had displaced.
At 5pm in Oaxaca, a commemorative mass for Brad Will was held. Press reports out of Mexico indicate the gunmen suspected of murdering New York journalist Brad Will are missing and not in police custody. The Other Campaign marched in support of the people of Oaxaca, against the repression, and for the PFP and governor Ulises Ruiz (URO) to leave. Solidarity protests and vigils have been held all over the world, including in San Jose, on November 1st. At 6pm, the Bound Together is holding a dedication ceremony for its "Anarchism in the Americas" mural. The mural, which now includes a depiction of Brad Will, will be dedicated in his honor. Photos: 1| 2
APPO | Indymedia list of radio streams
Update From Oaxaca: Standoff Intensifies as Police Raid State University
|
Oaxaca's Unrest Echoes America's Civil Rights South
|
In Oaxaca, Fox Opts for the Heavy Hand
|
Oaxaca: Solitary in Flames
|
FRSC: Oaxaca Solidarity, From New York to San Diego
We are 100% volunteer and depend on your participation to sustain our efforts!
Get Involved
If you'd like to help with maintaining or developing the website, contact us.