From the Open-Publishing Calendar
From the Open-Publishing Newswire
Indybay Feature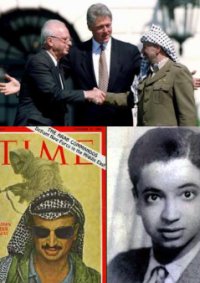 Wed Nov 10 2004
Yasser Arafat buried in Ram Allah As World Mourns
Yasser Arafat (1929- 2004)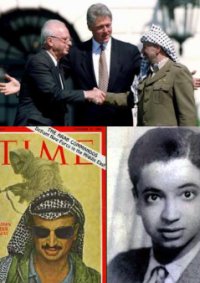 11/12/2004
On Friday November 12th 2004, Yasir Arafat was
laid to rest at his battered Muqata compound
in the West Bank town of Ram Allah. As Israel
continues attacks
on the Occupied Palestinian Territories and the US and Israeli press
continue to demonize Arafat and the Palestinians struggle
, many around the world mourn the loss of a man who devoted most of his life fighting for
Palestinian freedom
.
Mandela
called Arafat "an icon in the proper sense of the word...He was not only concerned about the liberation of the Arab people, but of all the oppressed people throughout the world". The
Cuban
government has declared a three-day official mourning for Arafat. The
Vatican
offered its condolences calling Arafat "a leader of great charisma who loved his people and sought to guide them toward national independence" Namibian
President Nujoma
stated in a message sent to Palestinian Prime Minister Ahmed Qureia, "In his passing, the people of Palestine have lost a great leader, who has also inspired millions of struggling masses around the world including the people of Africa in their fight against colonialism and foreign occupation.." Others remain
less inspired
about the legacy Arafat has left, "finding disfavor with his political strategies and even charging that he was corrupt", but Akbar Muhammad, international representative for the Nation of Islam
points out
that Arafat "started when he was 17 years old in this struggle, helping to smuggle weapons out of Israel to the people in Gaza, and at the close of his life, I feel strongly that it should not be the controversy over whether he was a bad man, he was this, he was that, he was corrupt.... He is a major player in the world."
11/10/2004
Yasser Arafat has died.
Arafat had been in a
coma and on life-support equipment
for the past few days but the cause of his illness is unknown. Arafat's longtime physician Ashraf al-Kurdy
has called for a full autopsy
amid
rumors that he was poisoned
. Was an autopsy carried out? Apparently not. So, we cannot rule anything out,
say some doctors
.
Yasser Arafat
was born in August 1929 and first became active in Palestinian politics while an engineering student in Cairo in the early 1950s. In 1957, Arafat helped found
Fatah
, an organization dedicated to the establishment of an independent Palestinian state. in 1969 Arafat was named chairman of the
Palestine Liberation Organization
, a political organization that had been founded in 1964 to unify all the Palestinian resistance groups.
In late 1960s, tensions had arisen between Palestinian resistance groups and the Jordanian government and open fighting between Jordan and Palestinian resistance groups erupted in June of 1970. In the ensuing civil war, the PLO had the active support of Syria, which invaded Jordan with around 200 tanks. By September (known to Palestinians as
Black September
) the Jordanian army achieved dominance, and the PLO agreed to a series of ceasefires. Following the defeat in Jordan, Arafat relocated the PLO to Lebanon, where it was able to operate virtually as an independent state. In 1974, Arab heads of states declared the PLO the sole legitimate representative of all Palestinians. The PLO was admitted to full membership in the Arab League in 1976.
In September 1982, during the
Israeli invasion of Lebanon
, the Americans brokered a cease-fire deal in which Arafat and the PLO were forced to leave Lebanon; Arafat and his leadership eventually arrived in Tunisia, which remained his center of operations up until 1993.
In a
December 13, 1988 address
, Arafat accepted UN Security Council Resolution 242, promised future recognition of Israel, and renounced "terrorism in all its forms, including state terrorism". During the
1991 Madrid Conference
, Israel conducted open negotiations with the PLO for the first time. Negotiations lead to the
1993 Oslo Accords
, which called for the implementation of Palestinian self rule in the West Bank and Gaza Strip over a five year period. The following year
Arafat was awarded the Nobel Peace Prize
along with Shimon Peres and Yitzhak Rabin. In 1994, Arafat moved to the
Palestinian Authority
(PA) - the provisional entity created by the Oslo Accords. On January 20, 1996, Arafat was elected president of the PA, with an overwhelming 87% majority.
Al Jazeera Arafat Profile | Wikipedia | NobelPrize.org | EIectronic Intifada | Yasir Arafat - A Symbol of Freedom | Reflections on the Man of Palestinian Destiny | Arafat's potential successors | Jailed leader Marwan Barghouti may stand for president
Related Categories:
Palestine
We are 100% volunteer and depend on your participation to sustain our efforts!
Get Involved
If you'd like to help with maintaining or developing the website, contact us.