From the Open-Publishing Calendar
From the Open-Publishing Newswire
Indybay Feature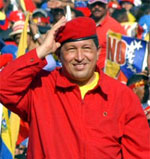 Mon Aug 16 2004
President Hugo Chavez Wins Venezuelan Referendum
Venezuelan President Survives Referendum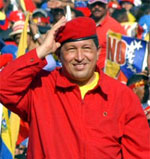 8/16:
On August 15th, 2004, a referendum was held in Venezuela to decide if Hugo Chavez should remain President of that country. At 4:03 this morning, it was
announced
that 58.2% of the voters had said that
Chavez will stay in power
. Election monitors from the Organization of American States found no irregularities and former President Jimmy Carter proclaimed the election results were accurate. Opposition leaders rejected the results, claiming "gross manipulation," but could offer no details. Meanwhile, oil prices reached a
record high
on Monday amid
concerns about production disruptions
due to the referendum.
Hugo Chavez was first elected president in 1998. During his first term, the national constitution was substantially revised. Included was a provision that if 20% of the electorate requested a vote on the validity of a president's mandate, a recall referendum could be held halfway through the term.
In April 2002, Chavez was
briefly removed from office
when corporatists seized power with the backing of the armed forces. As people outside of Caracas confusedly tried to follow the events on international television, the coup and its backers took over nearly all electronic media within the country. Websites such as
Trinicenter/Venezuelanalysis.com
and
NarcoNews
helped to get the truth out to the world.
After failing to bring down Chavez through extra-parliamentary means, the opposition group, Coordinadora Democratica, opted for an attempt to oust him via an 'electoral solution' in an accord they signed with the government, the OAS, and the Carter Center.
Film: The Revolution Will not Be Televised (a.k.a. Chavez the Film) | Z-Net's Venezuela Watch | V-Headline | Declassified Documents about US interference in Venezuela | Venezuela 2 years after the coup | WTRG Economics | Puerto Rico Indymedia's Venezuela Coverage | Indymedia UK's Venezuela Coverage | Past Indybay Coverage of the Venezuelan Presidential Crisis
We are 100% volunteer and depend on your participation to sustain our efforts!
Get Involved
If you'd like to help with maintaining or developing the website, contact us.