From the Open-Publishing Calendar
From the Open-Publishing Newswire
Indybay Feature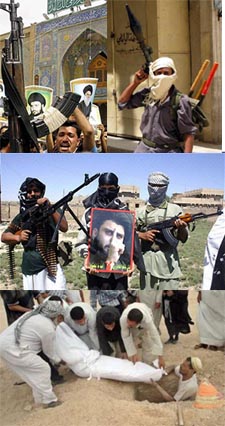 Thu May 27 2004
Polls show widespread support for Sadr as fighting ends in Karbala and Najaf
Fighting in Karbala and Najaf ends for now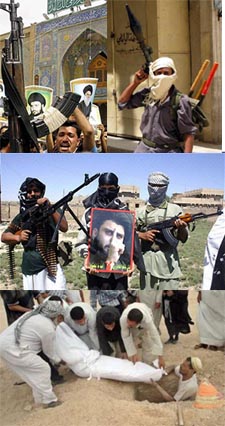 On May 22nd Sadr's militia
agreed to leave Karbala
and on May 27th there were signs that Sadr's troops
may be pulled from Najaf
if the
US were to agree to also withdraw its troops
from the city.
Weeks of fighting have resulted in dozens of Iraqi casualties and the destruction of many historical buildings in both Najaf and
Karbala
. The Shrine of Ali in Najaf was
damaged twice
resulting in
outrage by Shiites worldwide
. In Iran, the British embassy was
attacked several times
with
fire bombs
and the government
warned the US about the dangers of its actions
. In Bahrain,
demonstrators clashed with police
and the police overreaction
forced the resignation of the interior minister
. In Lebanon,
over 200,000 marched in Beirut
demanding an end to US attacks on the Shiite holy cities.
While fighting may soon end in the holy cities, US attacks on Sadr's militias in other cities are likely to continue. On May 23rd the US went on the offensive in
Kufa
(Sadr's main stronghold)
killing dozens
in heavy fighting that
resulted in damage to the Selah mosque
. There has also been fighting between Sadr's militia and coalition forces across
much of Southern Iraq
. British forces have been
ambushed every day around the town of Majar al-Kabir
and at nearby Amarah.
A poll conducted by the Iraq Center for Research and Strategic Studies shows that
Moqtada al-Sadr
is "
Iraq's second most influential figure
after
Grand Ayatollah Ali al-Sistani
, the country's most senior Shia cleric. Some 32 per cent of respondents said they strongly supported Mr Sadr and another 36 per cent somewhat supported him". "
For many of his followers
, radical Iraqi Shiite cleric Moqtada Sadr has taken on the persona of a Robin Hood or a David fighting Goliath as he defiantly stands up to the US-led coalition. " Despite being a Shiite cleric, Sadr has considerable support among Sunnis too.
Fallujan Sunni clerics have met with Sadr
to talk of unifying the struggle for national liberation. A commander of two brigades of the
Mehdi Army
in Sadr City recently
confirmed to Dahr Jamail
that many Sunnis have joined the Shi'ite-led resistance force. "We have 700 Sunnis fighting with us here, because we are fighting so that our holy places aren't destroyed like they are in Najaf, Kut and Kerbala...The Americans invaded us, and now they have made this a holy war."
Related Categories:
Iraq
We are 100% volunteer and depend on your participation to sustain our efforts!
Get Involved
If you'd like to help with maintaining or developing the website, contact us.