From the Open-Publishing Calendar
From the Open-Publishing Newswire
Indybay Feature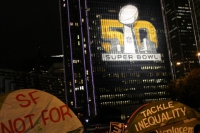 Sun Feb 7 2016
(Updated 02/09/16)
Bay Area Residents Protest the Super Bowl
Protests at "Super Bowl City" Against Inequality, Anti-Homeless Policies & Police Killings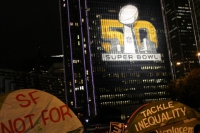 Super Bowl City, a corporate playground for tourists paid for by taxpayers, was set up along the Embarcadero in San Francisco in late January. Before it opened, SFPD began pushing homeless people out of the area so that they would not be seen by Super Bowl crowds. Anyone attempting to rest nearby has been continually harassed by police and not allowed to sleep for more than a couple of hours at a time. Supervisor Scott Weiner even proposed taking people's tents away. Militarized law enforcement from every conceivable agency patrolled and surveilled the area in San Francisco and around Levi's Stadium in Santa Clara on game day.
In an interview for
The Nation
magazine, Davey D explained the rationale behind the large protests that have targeted the Super Bowl. He said, "There's a lot of anger and a lot of concern over two main things. First, the Super Bowl is coming at a time when massive amounts of people have been displaced. So, it's added insult to injury to see this pageantry, all this money being spent, record amounts of police, elected officials falling all over themselves, while you have folks who gave this region its soul and its heart who can't afford to live here anymore... The second thing that's going on are all the police killings that have been taking place."
Amongst the protests were one on January 30, when hundreds of Justice for Mario Woods protesters gathered in Union Square and marched to Super Bowl City. On February 3, hundreds of women and children, former and current homeless residents of San Francisco, and advocates for the homeless held a protest along the Embarcadero in front of a Super Bowl City entrance. On February 6, hundreds of activists marched through downtown to the site to protest unrelenting economic displacements. SFPD repressed all of these protests with at least one hundred cops each time.
Read More with Photos, Video, and Audio:

SF Housing Activists Protest Displacement at Super Bowl Site |

Super Bowl 50: Super Militarization and Super Inequality |


Large Police Presence Greets Homeless Advocates near Super Bowl City |


Justice for Mario Woods protesters taking their message to SuperBowl City |

Super Bowl Protest For Mario Woods |

Why Bay Area Residents Are Protesting the Super Bowl
See also:

Millions For Superbowl From SF While City Services Suffer — SEU1021 Brenda Barros Speaks
|
Let's not squander movement energy with respectability politics
|
Capitalism, Sports & The Super Bowl: The Cost, The Politics, Privatization And The Game
|
Stupid Bowl Plaza: Machine Gun Guards & Police Helicopters
|
Stupid Bowl SF TV Kiosks & SFMTA city workers "volunteer" at Stupid Bowl City
|
Stupid Bowl prevents SF bus service for 3 weeks
|

Tom Paine pamphleteering and the SF real estate biz
|

Promote SF Values on Super Sunday--Toss a football in the Marina
|

The Whole World Is Watching & The Cost and Politics Of The SuperBowl Billionaire's Party
|

Protest the Superbowl: This is OUR home
|

"SAPA Bowl" (an alternative to the superbowl)
|
Stop Super Bowl City Garbage
|
Super Bowl?
Previous Related Indybay Feature: Protesters Disrupt SF Mayor Ed Lee's Inauguration Over Police Killings
We are 100% volunteer and depend on your participation to sustain our efforts!
Get Involved
If you'd like to help with maintaining or developing the website, contact us.