From the Open-Publishing Calendar
From the Open-Publishing Newswire
Indybay Feature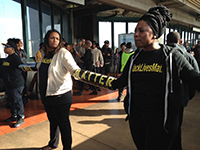 Sun Nov 30 2014
(Updated 12/03/14)
Bay Area Shuts It Down for Mike Brown After No Indictment for Darren Wilson
Protests & Disruptions Erupt Nationwide After No Charges in Ferguson Grand Jury Verdict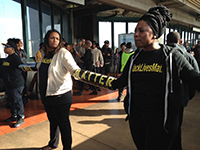 As expected, the grand jury tasked with determining if there was enough evidence for charging Ferguson police officer Darren Wilson for the murder of Mike Brown determined that there wasn't probable cause. That night, on November 24, people in Ferguson and across the country began to rise up for Mike Brown and shut down freeways, city streets, and more. Protests continued throughout the week, culminating on the annual Black Friday shopping day and continuing into the weekend.
In Ferguson on the first night after the verdict was announced, two police cars were burned as well as a number of local businesses. Major protests demanding justice and shutting down interstate freeways were held that night and throughout the week in Los Angeles, Portland, Minneapolis, Boston, New York, Atlanta, Miami, and numerous other cities across the U.S.
Oakland:
On the first night, over 1000 people marched from Oscar Grant plaza at 14th & Broadway. The I-580 freeway was shut down for over two hours and rowdy protests continued downtown late into the night, with fires set in the streets and several businesses broken into. Street protests in Oakland continued over the next several days, with Oakland police headquarters targeted several times, with one march making its way to the edge of Berkeley and Emeryville. Over 150 people have been arrested. On Black Friday, activists locked themselves to each other and a BART train, effectively blocking all BART trains from transporting consumers to San Francisco. Fourteen people were arrested and released later in the day.

Dec 5: March and Noise Demo to Support the Revolt! FTP!
|

Dec 1: Court Support & Picket for Brave Fighters Who Shut Down BART and Freeways
|

Blackout Collective Shuts Down Black Friday BART Trains to San Francisco
|

Black Lives Matter! BART Shut Down On Black Friday To Protest Brown Murder & Gentrification
|

Next Day After Ferguson Demonstratration!
|

Oakland stands in solidarity with Ferguson
|

Oakland Stands Up for Mike Brown
|

Love 4 Ferguson/Fuck the Police on RCA squat in Oakland
|

Oakland Shuts It Down for Mike Brown After No Indictment for Darren Wilson
|

Fuck The Police: Oakland Demonstration After Darren Wilson Verdict
San Francisco:
Protests happened throughout the week, with the first in the Mission District on November 24 and the largest on November 28, Black Friday, disrupting downtown shopping areas such as Westfield Centre, Union Square, and multiple stores as the march passed. Nearly 70 people were arrested.

Dec 6: SF Town Hall Meeting-From Ferguson to San Francisco: The "Militarization of the Police"
|
Downtown SF Largely Shut Down on Black Friday Night
|

Black Friday march in SF shuts down Union Square
|

Traffic barricade to the face
|

SF Black Friday March for Michael Brown & Alex Nieto
|

Pics from protest over Racist Cops in SF
|
SF Takes to the Streets To Protest Racist Murders
|

Protest: Another killer cop walks free! Justice for Mike Brown!
Santa Cruz:
On November 25, a wide variety of community members in Santa Cruz came together at the Town Clock and marched to the Santa Cruz Police Department.


Ferguson "Day After" Gathering in Santa Cruz
San Jose:
On November 30, a demonstration shut down traffic in and around "Christmas in the Park" in the downtown area.

From Palestine to Ferguson
Berkeley:

Dec 6: From Ferguson To Ayotzinapa: March Against State Violence
See Also:

Camover Attack in West Oakland
|

Ferguson Photos By Jessie S.with Interview
|
Details Murky in Officer Involved Shooting in Seaside
|

Mike Brown's Murder Subject of This Week's PEACE Vigil
Previous Related Indybay Features: Protests in Support of Justice for Michael Brown Erupt All Over the World | Rebellion in Ferguson Over Murder of Michael Brown
We are 100% volunteer and depend on your participation to sustain our efforts!
Get Involved
If you'd like to help with maintaining or developing the website, contact us.