From the Open-Publishing Calendar
From the Open-Publishing Newswire
Indybay Feature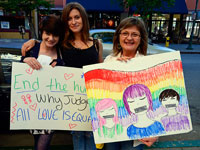 Wed Apr 25 2012
Community Members "Break the Silence" at LGBQT Youth Rally in Santa Cruz
Wed Apr 25 2012
National Day of Silence to Support LGBTQ Youth and "Bully" Movie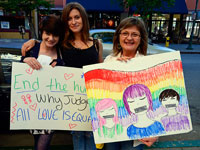 In downtown Santa Cruz on April 20, LGBQT community members from the Diversity Center's Youth Program and their family members and allies held a "Breaking the Silence" rally in front of the Del Mar Theatre before a showing of the film "Bully". People held signs and shared stories. There was a group shout out, and many involved with the youth program wore tape x'd over their mouths to both symbolize the silencing effect of bullying on the LGBQT youth community, as well as to be an expression of solidarity with those who could not attend the rally in person for many different reasons of privacy.
Michelle, who is 15, attended the rally to, "support and to advocate just how horrible bullying can be," which she described as an act of, "condemning other people for something that they should not be condemned for, if we are to be called a free society." Michelle notes how bullying often happens between people who do not know each other, and is something that is a regular occurrence in her life and the lives of her friends. "It has happened most often to me and my friends in schools where groups of students they, I guess, who knows why they do what they do, but they look at us and they roll their eyes, or they they have this attitude that they are entitled to make fun of us for whatever we may doing, whatever we are. They look at us and they laugh," she said.
The next big event in Santa Cruz for LGBQT youth is the 15th Annual Queer Youth Leadership Awards on May 12, which is put on by the Queer Youth Task Force. The QYLA recognize queer youth around the county, as well as allies to queer youth; both individual adult allies and organizational allies.



Read More, with Photos, Video and Audio
Previous Coverage:
12th Annual Queer Youth Leadership Awards for Santa Cruz County
Related Categories:

Santa Cruz Indymedia | Education & Student Activism | LGBTI / Queer | Front Page