From the Open-Publishing Calendar
From the Open-Publishing Newswire
Indybay Feature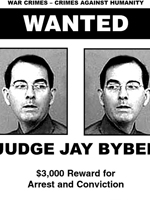 Sun Mar 14 2010
(Updated 03/15/10)
Anti-Torture Action Confronts Judge Bybee in SF
Bybee Action at the Ninth Circuit Court in SF Demands that Bybee Resign or Be Impeached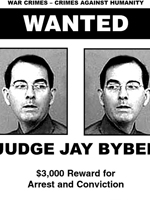 Cynthia Papermaster describes a Bybee Action
at the Ninth Circuit Court in San Francisco on March 10th: In the past we've had only a few seconds to say something before Bybee disappeared at the end, but this time we caught a break when the gavel came down. Proctor Hug, the first of the three judges headed for the exit, was moving very slowly, leaving Bybee waiting and fully exposed for at least three minutes, during which time Susan and I loudly told him he's a war criminal for authorizing agressive war and torture, not fit to be a judge, should resign and should be impeached. During this time the marshals just stood in front of us. They didn't ask us to leave or be quiet. I think this is due to the face-to-face discussions Joe in Portland and Susan in San Francisco have had with Chief Judge Kozinski and Cathy Catterson, the circuit and court of appeals executive, over the issue of rough treatment of protestors in the past.

Read More with Video | Showdown With A Torture Judge | Torture is a War Crime: Prosecute! | Bye Bye Bybee: Impeach, Disbar, Prosecute "Torture Judge"
Jay Scott Bybee is a federal judge on the United States Court of Appeals for the Ninth Circuit. Bybee served as the Assistant Attorney General for the Office of Legal Counsel (OLC) in the United States Justice Department from November 2001 to March 2003.
During Bybee's tenure at the OLC, the CIA requested legal advice on detainee interrogation. The OLC drafted a memo in response to the CIA request. Reportedly, the memo was principally authored by OLC lawyer
John Yoo
with aid from David Addington. The memo describes the limitations on the behavior of U.S. government interrogators outside the United States as governed by the United Nations Convention Against Torture. The memo concludes that torture is defined as "acts inflicting...severe pain or suffering, whether mental or physical." Physical pain "must be equivalent in intensity to the pain accompanying serious physical injury, such as organ failure, impairment of bodily function, or even death." The memo also concluded that even though an act is "cruel, inhuman, or degrading," it does not necessarily inflict the level of pain that U.S. law prohibits, and thus does not subject an interrogator to criminal prosecution.
A second memo signed by Jay Bybee and dated August 1, 2002, entitled "Memorandum for John Rizzo, Acting General Counsel of the Central Intelligence Agency: Interrogation an al Qaeda Operative", was released on April 16th, 2009 after years of litigation. It goes into great detail on ten techniques, a number of which have been referred to as torture, and why they are legal to apply to CIA prisoner Abu Zubaydah, who at the time was held in a covert CIA "black site."
An Even Worse Memo from Torture Advocate Bybee | Wikipedia: Bybee Memo | Full Text Of The Bybee "Torture Memo" | Bybee Memo A Roadmap for Torture | FrontLine: Redefining Torture?
We are 100% volunteer and depend on your participation to sustain our efforts!
Get Involved
If you'd like to help with maintaining or developing the website, contact us.