From the Open-Publishing Calendar
From the Open-Publishing Newswire
Indybay Feature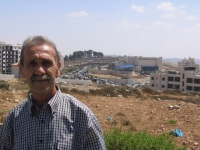 Fri Aug 15 2008
(Updated 08/17/08)
Reuven Abergel Discusses Zionism, Racism, and Colonialism
Reuven Abergel, Misrahi Anti-Zionist Activist from Israel, Comes to the Bay Area to Speak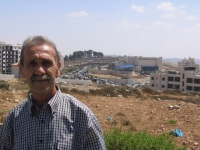 As part of a week of international conference of Anti-Zionist Jews organized by the
International Jewish Solidarity Network (IJSN)
, Reuven Abergel, a Mizrahi Anti-Zionist Jew, visited the Bay-Area. Reuven is one of the founders of the
Israeli Black Panthers
, an anti-Zionist, and a social activist. Abergel participated in several
meetings
and
panels
and spoke about Zionism, racism, and colonialism and ways to resist them. Abergel also discussed the oppression of Mizrahim in Israel and his vision of a united struggle against Zionism and Colonialism composed of Mizrahim and Palestinians and the need to educate the next generation of youth in Israel to become active in global solidarity work.
Abergel was also interviewed on local radio programs. In a response to a
question on Flashpoints
about the claim by Zionists that critics of Israel are Anti-Semitic, Abergel replied "it is just a way for them to sell lies, to try to protect themselves from the horrific crimes that they commit". Abergel also added "I'm asking people in the world, how can you accept this occupation? If this was to happen in your country, your homes, you would not sleep. Wake up and stop it, or it will get to your homes". Reuven Abergel also spoke about his personal experience as one of the
Ringworm Children
, a group of thousands of kids from Jewish-Arab background that the state of Israel did radioactive experiments on without their knowledge or family consent. The experiences were done under the supervision of the division of social medicine, a department in the Israeli ministry of health that implemented
Eugenic
ideas and philosophy.
Abergel immigrated with his family to Israel from Morocco in the fifties, and became politically active after a popular uprising by Moroccan Jews in
Wadi-Salib
Haifa in 1959. In 1971 Abergel founded the Israeli Black Panthers. Inspired by the Black Panthers in the U.S. and determined to stop the racist and discriminatory way in which the state of Israel treated its Arab-Jews, the Israeli Panthers led and organized many demonstrations and uprisings against the establishment. Abergel's home became the headquarters for the Panthers, and Abergel's Israeli citizenship was taken away making him a refugee in the state of Israel.
Since the death of the Israeli Black Panthers due to internal conflicts, Abergel has been a Mizrahi anti-Zionist activist and has organized many visits to Palestinian refugee camps and demonstrations against the apartheid wall. In 2002 Abergel met with Arafat when the latter was under an Israeli siege. Abergel also organizes regular food and water deployments to Bedouin villages that the states of Israel has yet to
officially recognize
, as a consequence these villages lack basic infrastructure such as roads electricity and water transportation.
Reuven Abarjel, discusses Zionism, Racism, and Colonialism-visits the Bay-area l Who's against who? Between the conflict and the social, Reuven Abergel | Another Act in the Mizrahi-Palestinian Tragedy, Reuven Abarjel and Smadar Lavie I Reuven Abergel, Founder of Israel's Black Panthers, in support of the Academic Boycott of Israel l A small segment from The "Ringworm-Children" documentary, YouTube | Israel compensates for ringworm treatment | The Ringworm Children a collection of articles | Reuven Abergel's web-page (Hebrew) | Israeli Denial of Right to Water as Means for Pushing Bedouins off their Land | Bedouin citizens of Israel denied water as means of transfer
We are 100% volunteer and depend on your participation to sustain our efforts!
Get Involved
If you'd like to help with maintaining or developing the website, contact us.